Latest News
Republican are ready to oppose Democratic efforts to include progressive priorities, including abortion and racial equity, within the must-pass defense bill.
2022/12/06 17:06
The Dec. 16 deadline for Congress to pass a new spending agreement to avoid a government shutdown is quickly approaching, but lawmakers are still at a "pretty significant impasse."
2022/12/06 17:05
A controversial surveillance program run by the U.S. Postal Service came under fire Tuesday as Republicans pushed for a vote to give Congress more information.
2022/12/06 16:21
Anthony Fauci couldn't recall the studies that said hydroxychloroquine is an ineffective COVID-19 treatment or that a major medical journal retracted its study on the subject.
2022/12/06 15:40
The family of fallen Capitol Hill Police Officer Brian Sicknick refused to shake hands with Sen. Mitch McConnell and Rep. Kevin McCarthy at a Jan. 6 event Tuesday.
2022/12/06 14:52
Support the Movement
Buy The T-Shirt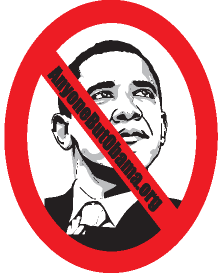 Order other designs on Cafe Press:
Your Ad Here
About Us
---
AnyoneButObama.org is a coalition of Democrats, Republicans and Independents who having done thorough research on the background and politics of Barack Obama have decided to vote for anyone but Obama and to convince as many fellow Americans as possible to vote for Anyone But Obama.
Although the greatest beneficiary of our movement is obviously John McCain, our movement does not formally endorse McCain, nor is our movement partisan in any way shape or form. We are a coalition of every party, every race, every religion, and both genders dedicated to exposing the truth about Obama that has heretofore been suppressed or rationalized by the media. Everything on our site has been vetted and is factually accurate. If ever you find otherwise we encourage you to tell us.
Our goal is to educate as many American voters as possible as to the truth about Barrack Obama, his family, his friends and his associates, and in doing so to convince at least 1 million undecided voters to vote for Anyone But Obama!
Thank you for joining the movement that will save America!