Latest News
Mark McCloskey, a St. Louis attorney who, along with his wife, armed himself and confronted Black Lives Matter protesters outside their home last summer, said he is considering a run for a U.S. Senate seat.
2021/04/21 02:12
Former President Bill Clinton and former Secretary of State Hillary Clinton each reacted to Tuesday's verdict in the Derek Chauvin murder trial.
2021/04/20 23:50
Author and conservative analyst Candace Owens reacted to the guilty verdict lodged against former Minneapolis Police Officer Derek Chauvin in the death of George Floyd as a symptom of a perpetual media and Democrat Party narrative absent many facts about the case.
2021/04/20 22:58
State Assemblyman Ron Kim, a leading Democratic critic of Gov. Andrew Cuomo's handling of the coronavirus crisis in New York nursing homes, is lauding a second criminal probe into the governor's alleged misconduct following allegations that he used taxpayer resources to write and promote his book on pandemic leadership.
2021/04/20 21:56
In an exclusive interview with Fox News, Donna Zaccaro says, Walter Mondale, who passed at age 93 Monday, shall be remembered "as a champion of civil rights and equality, and just a decent, honorable, wonderful man." 
2021/04/20 21:47
Support the Movement
Buy The T-Shirt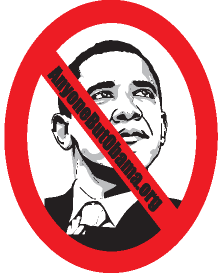 Order other designs on Cafe Press:
Your Ad Here
About Us
---
AnyoneButObama.org is a coalition of Democrats, Republicans and Independents who having done thorough research on the background and politics of Barack Obama have decided to vote for anyone but Obama and to convince as many fellow Americans as possible to vote for Anyone But Obama.
Although the greatest beneficiary of our movement is obviously John McCain, our movement does not formally endorse McCain, nor is our movement partisan in any way shape or form. We are a coalition of every party, every race, every religion, and both genders dedicated to exposing the truth about Obama that has heretofore been suppressed or rationalized by the media. Everything on our site has been vetted and is factually accurate. If ever you find otherwise we encourage you to tell us.
Our goal is to educate as many American voters as possible as to the truth about Barrack Obama, his family, his friends and his associates, and in doing so to convince at least 1 million undecided voters to vote for Anyone But Obama!
Thank you for joining the movement that will save America!