Latest News
The Trump administration will propose merging the Labor Department with the Education Department as part of a larger effort to reorganize the federal government, The Wall Street Journal reported late Wednesday.
2018/06/20 22:45
The Department of Health and Human Services backed away late Wednesday from an official's claim that more than 2,000 immigrant children separated from their parents at the U.S.-Mexico border would not be reunited with their families right away despite President Trump's executive order aimed at keeping families together.
2018/06/20 21:30
Federal authorities have subpoenaed the publisher of the National Enquirer for records related to its $150,000 payment to a former Playboy model for the rights to her story alleging an affair with Donald Trump, according to people familiar with the matter.
2018/06/20 20:45
Democrats expressed concerns Wednesday about President Trump's executive order, which will allow parents who have crossed the U.S. border illegally to remain with their children.
2018/06/20 20:45
Republican lawmakers fighting to maintain their majorities in Congress after November's midterms are scrambling for a solution to a problem they see as a political loser: existing laws that allow border crossing children to be separated from their parents.
2018/06/20 20:30
Support the Movement
Buy The T-Shirt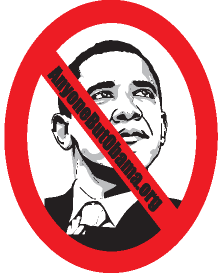 Order other designs on Cafe Press:
Your Ad Here
About Us
---
AnyoneButObama.org is a coalition of Democrats, Republicans and Independents who having done thorough research on the background and politics of Barack Obama have decided to vote for anyone but Obama and to convince as many fellow Americans as possible to vote for Anyone But Obama.
Although the greatest beneficiary of our movement is obviously John McCain, our movement does not formally endorse McCain, nor is our movement partisan in any way shape or form. We are a coalition of every party, every race, every religion, and both genders dedicated to exposing the truth about Obama that has heretofore been suppressed or rationalized by the media. Everything on our site has been vetted and is factually accurate. If ever you find otherwise we encourage you to tell us.
Our goal is to educate as many American voters as possible as to the truth about Barrack Obama, his family, his friends and his associates, and in doing so to convince at least 1 million undecided voters to vote for Anyone But Obama!
Thank you for joining the movement that will save America!