Latest News
In a 2019 interview, Virginia Democratic gubernatorial candidate Terry McAuliffe denied in a 2019 interview that current Virginia Gov. Ralph Northam wore blackface in a college yearbook photo and shrugged it off as a dumb mistake.
2021/10/22 19:16
Rapper Bryson Gray announced on Twitter Thursday that his music video poking fun at President Joe Biden was removed from YouTube due to "medical misinformation."
2021/10/22 18:21
White House press secretary Jen Psaki said President Biden's approval ratings are so low because people are "tired of fighting" the coronavirus pandemic, which Biden promised to "shut down" during the 2020 campaign.
2021/10/22 18:21
Michigan Governor Gretchen Whitmer has come under fire for her sluggish response to the water crisis in the city of Benton Harbor.
2021/10/22 17:45
A New York jury convicted a former associate of Rudy Giuliani on Friday of charges that he made illegal campaign contributions to influence U.S. politicians and advance his business interests
2021/10/22 17:30
Support the Movement
Buy The T-Shirt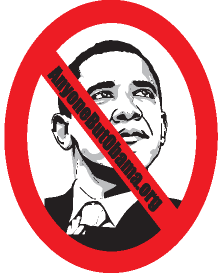 Order other designs on Cafe Press:
Your Ad Here
About Us
---
AnyoneButObama.org is a coalition of Democrats, Republicans and Independents who having done thorough research on the background and politics of Barack Obama have decided to vote for anyone but Obama and to convince as many fellow Americans as possible to vote for Anyone But Obama.
Although the greatest beneficiary of our movement is obviously John McCain, our movement does not formally endorse McCain, nor is our movement partisan in any way shape or form. We are a coalition of every party, every race, every religion, and both genders dedicated to exposing the truth about Obama that has heretofore been suppressed or rationalized by the media. Everything on our site has been vetted and is factually accurate. If ever you find otherwise we encourage you to tell us.
Our goal is to educate as many American voters as possible as to the truth about Barrack Obama, his family, his friends and his associates, and in doing so to convince at least 1 million undecided voters to vote for Anyone But Obama!
Thank you for joining the movement that will save America!