Latest News
Mike Bloomberg doesn't want a Naked Cowboy in every city —  just as the Naked Cowboy doesn't want Bloomberg in the White House.
2020/02/28 05:04
We've not detected fear, per se, on Capitol Hill amid the coronavirus outbreak. But lawmakers know coronavirus isn't something they can fully control. They can only respond – and hope they respond in the best way possible with money and resources.
2020/02/28 04:37
Rep. Alexandria Ocasio-Cortez, D-N.Y., said Thursday that she sometimes feels that if "Christ himself" walked through the doors of Congress, he would be maligned as a radical over his social positions.
2020/02/28 04:06
While U.S. Rep. Adam Schiff has been trying to impeach President Trump, homeless people in his California congressional district have been desperately trying to survive, a candidate looking to replace Schiff said this week.
2020/02/28 03:52
Investigators in Ukraine have launched a probe into former U.S. Vice President Joe Biden over allegations that he pressured Ukrainian officials to fire the country's top prosecutor in 2016, according to a report.
2020/02/28 00:35
Support the Movement
Buy The T-Shirt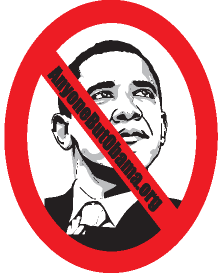 Order other designs on Cafe Press:
Your Ad Here
About Us
---
AnyoneButObama.org is a coalition of Democrats, Republicans and Independents who having done thorough research on the background and politics of Barack Obama have decided to vote for anyone but Obama and to convince as many fellow Americans as possible to vote for Anyone But Obama.
Although the greatest beneficiary of our movement is obviously John McCain, our movement does not formally endorse McCain, nor is our movement partisan in any way shape or form. We are a coalition of every party, every race, every religion, and both genders dedicated to exposing the truth about Obama that has heretofore been suppressed or rationalized by the media. Everything on our site has been vetted and is factually accurate. If ever you find otherwise we encourage you to tell us.
Our goal is to educate as many American voters as possible as to the truth about Barrack Obama, his family, his friends and his associates, and in doing so to convince at least 1 million undecided voters to vote for Anyone But Obama!
Thank you for joining the movement that will save America!