Latest News
Russian President Vladimir Putin called President Trump on Sunday to thank him for providing intelligence that helped thwart a planned terror attack in St. Petersburg, the White House has confirmed.
2017/12/17 12:32
President Trump's legal counsel Ty Cobb says the president is not going to fire special counsel Robert Mueller, in response to a "rumor" that Trump will dismiss Mueller this week.
2017/12/17 11:39
Newly-elected Democratic Sen. Doug Jones gave qualified support Sunday to liberal-backed issues like continued protections young illegal immigrants and not using taxpayer money for a U.S.-Mexico border wall but suggested he wants to wait until being sworn in next month before taking on such "complicated" issues.
2017/12/17 10:54
Treasury Secretary Steve Mnuchin predicted Sunday that the GOP-led Congress will this week pass its sweeping tax-reform bill, calling the plan "terrific" and its passage a "historic moment" for the country.
2017/12/17 09:24
Count Jane Fonda as the latest liberal Hollywood celebrity to donate big bucks in an effort to oust U.S. Rep. Darrell Issa in next year's midterm elections.
2017/12/17 06:30
Support the Movement
Buy The T-Shirt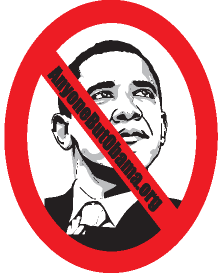 Order other designs on Cafe Press:
Your Ad Here
About Us
---
AnyoneButObama.org is a coalition of Democrats, Republicans and Independents who having done thorough research on the background and politics of Barack Obama have decided to vote for anyone but Obama and to convince as many fellow Americans as possible to vote for Anyone But Obama.
Although the greatest beneficiary of our movement is obviously John McCain, our movement does not formally endorse McCain, nor is our movement partisan in any way shape or form. We are a coalition of every party, every race, every religion, and both genders dedicated to exposing the truth about Obama that has heretofore been suppressed or rationalized by the media. Everything on our site has been vetted and is factually accurate. If ever you find otherwise we encourage you to tell us.
Our goal is to educate as many American voters as possible as to the truth about Barrack Obama, his family, his friends and his associates, and in doing so to convince at least 1 million undecided voters to vote for Anyone But Obama!
Thank you for joining the movement that will save America!