Latest News
A Republican who's challenging U.S. Rep. Ilhan Omar, D-Minn., in November decried "silence" on a recent spate of deadly gun violence in Chicago amid the media focus on the death of George Floyd in Minneapolis.
2020/06/06 23:58
Former President George W. Bush and Sen. Mitt Romney, R-Utah, are reportedly not expected to support the reelection of President Trump -- two high profile GOP figures who are believed to be avoiding backing the Republican president in November.
2020/06/06 23:13
Minneapolis' Democratic Mayor Jacob Frey was booed out of a protest on Saturday after reportedly refusing to back far-left calls to defund the Minneapolis Police Department -- a week after riots and looting tore through the city.
2020/06/06 20:34
After more than a week of George Floyd protests, thousands of New Yorkers gathered Saturday for another day of demonstrations against police brutality and racial equality in the U.S.
2020/06/06 19:52
New York Gov. Andrew Cuomo declared Saturday that New York "crushed" the curve and "did the impossible" as the state begins to re-open after the peak of the coronavirus pandemic appears to have passed -- even as he faces criticism over his handling of the virus.
2020/06/06 19:32
Support the Movement
Buy The T-Shirt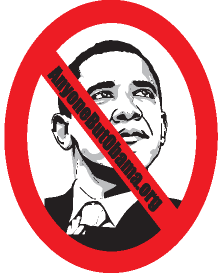 Order other designs on Cafe Press:
Your Ad Here
About Us
---
AnyoneButObama.org is a coalition of Democrats, Republicans and Independents who having done thorough research on the background and politics of Barack Obama have decided to vote for anyone but Obama and to convince as many fellow Americans as possible to vote for Anyone But Obama.
Although the greatest beneficiary of our movement is obviously John McCain, our movement does not formally endorse McCain, nor is our movement partisan in any way shape or form. We are a coalition of every party, every race, every religion, and both genders dedicated to exposing the truth about Obama that has heretofore been suppressed or rationalized by the media. Everything on our site has been vetted and is factually accurate. If ever you find otherwise we encourage you to tell us.
Our goal is to educate as many American voters as possible as to the truth about Barrack Obama, his family, his friends and his associates, and in doing so to convince at least 1 million undecided voters to vote for Anyone But Obama!
Thank you for joining the movement that will save America!