Latest News
Vice President Mike Pence told West Point's most diverse graduating class in history that they will go to war for America at some point in their life.
2019/05/26 13:37
Rep. Liz Cheney, R-Wyo, said in an interview aired Sunday that text messages between former FBI investigators Peter Strzok and Lisa Page "sound an awful lot like a coup" and could even be treason.
2019/05/26 13:11
President Trump has authorized Attorney General Bill Barr to declassify all materials related to the Russia investigation, and Sen. Lindsey Graham is giving his full support.
2019/05/26 11:56
New York City Mayor and Democratic presidential hoeful Bill de Blasio is trying to fight against negative polls and questions about his likability, while attacking President Trump, hoping that voters will want to see the two clash in 2020.
2019/05/26 10:34
Democratic 2020 presidential hopeful Pete Buttigieg, in an interview aired Sunday, said President Trump had slandered American troops by considering pardoning soldiers accused of war crimes -- and said the proposal threatened to undermine the country's "legal and moral" foundations.
2019/05/26 10:06
Support the Movement
Buy The T-Shirt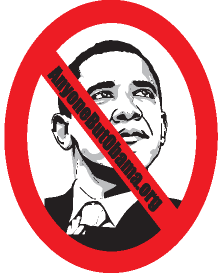 Order other designs on Cafe Press:
Your Ad Here
About Us
---
AnyoneButObama.org is a coalition of Democrats, Republicans and Independents who having done thorough research on the background and politics of Barack Obama have decided to vote for anyone but Obama and to convince as many fellow Americans as possible to vote for Anyone But Obama.
Although the greatest beneficiary of our movement is obviously John McCain, our movement does not formally endorse McCain, nor is our movement partisan in any way shape or form. We are a coalition of every party, every race, every religion, and both genders dedicated to exposing the truth about Obama that has heretofore been suppressed or rationalized by the media. Everything on our site has been vetted and is factually accurate. If ever you find otherwise we encourage you to tell us.
Our goal is to educate as many American voters as possible as to the truth about Barrack Obama, his family, his friends and his associates, and in doing so to convince at least 1 million undecided voters to vote for Anyone But Obama!
Thank you for joining the movement that will save America!