Latest News
Just days after a shakeup in the New Hampshire leadership of Sen. Bernie Sanders' 2020 presidential campaign comes word that the candidate's Iowa political director has departed as well.
2019/09/18 23:14
A former campaign staffer for Barack Obama announced Wednesday that he will mount a second primary challenge to long-serving New York Democratic congresswoman Carolyn Maloney in 2020.
2019/09/18 21:24
The U.S. military has spent more than $184,000 at President Trump's luxury resort in Scotland over the past two years, according to documents the Pentagon provided to the House Oversight Committee.
2019/09/18 20:41
A former official in the George W. Bush administration has penned a Washington Post op-ed urging his "fellow Latinos" to vote President Trump out of office, saying the Republican Party has "have lost control of the monster they helped create."
2019/09/18 20:31
Rep. Alexandria Ocasio-Cortez, D-N.Y., will have to get through a primary challenger if she wants to hold on to her seat in 2020.
2019/09/18 20:25
Support the Movement
Buy The T-Shirt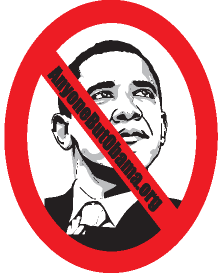 Order other designs on Cafe Press:
Your Ad Here
About Us
---
AnyoneButObama.org is a coalition of Democrats, Republicans and Independents who having done thorough research on the background and politics of Barack Obama have decided to vote for anyone but Obama and to convince as many fellow Americans as possible to vote for Anyone But Obama.
Although the greatest beneficiary of our movement is obviously John McCain, our movement does not formally endorse McCain, nor is our movement partisan in any way shape or form. We are a coalition of every party, every race, every religion, and both genders dedicated to exposing the truth about Obama that has heretofore been suppressed or rationalized by the media. Everything on our site has been vetted and is factually accurate. If ever you find otherwise we encourage you to tell us.
Our goal is to educate as many American voters as possible as to the truth about Barrack Obama, his family, his friends and his associates, and in doing so to convince at least 1 million undecided voters to vote for Anyone But Obama!
Thank you for joining the movement that will save America!