Latest News
City Hall hopeful Maya Wiley claims she delivered "universal broadband access" to New Yorkers as Mayor Bill de Blasio's counsel, but a new report reveals that her deal to convert old telephone booths into free Wi-Fi hotspots fell far short of its goal.
2021/06/14 18:32
President Biden blasted former president Donald Trump and Republicans during a press conference following a NATO summit in Brussels on Monday.
2021/06/14 17:50
President Biden said Monday that Ukraine had yet to meet standards required to join NATO but would receive necessary support from the alliance amid rising tensions with Russia.
2021/06/14 16:52
President Biden called Russian President Vladimir Putin a "worthy adversary" at a press conference following a NATO summit in Brussels on Monday — days after Putin praised former president Donald Trump and called Biden a "career man" in an interview.
2021/06/14 16:23
The Supreme Court ruled unanimously Monday that low-level crack cocaine offenders convicted more than a decade ago can't take advantage of a 2018 federal law to seek reduced prison time.  
2021/06/14 14:41
Support the Movement
Buy The T-Shirt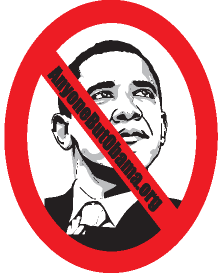 Order other designs on Cafe Press:
Your Ad Here
About Us
---
AnyoneButObama.org is a coalition of Democrats, Republicans and Independents who having done thorough research on the background and politics of Barack Obama have decided to vote for anyone but Obama and to convince as many fellow Americans as possible to vote for Anyone But Obama.
Although the greatest beneficiary of our movement is obviously John McCain, our movement does not formally endorse McCain, nor is our movement partisan in any way shape or form. We are a coalition of every party, every race, every religion, and both genders dedicated to exposing the truth about Obama that has heretofore been suppressed or rationalized by the media. Everything on our site has been vetted and is factually accurate. If ever you find otherwise we encourage you to tell us.
Our goal is to educate as many American voters as possible as to the truth about Barrack Obama, his family, his friends and his associates, and in doing so to convince at least 1 million undecided voters to vote for Anyone But Obama!
Thank you for joining the movement that will save America!