Latest News
Corey Lewandowski on Tuesday played down recent reports that he got into a physical altercation with White House chief of staff John F. Kelly last winter. 
2018/10/23 23:43
A fire alarm sounded at the beginning of Georgia's gubernatorial debate Tuesday evening, serving to punctuate an already-awkward exhortation by Libertarian candidate Ted Metz that government employees put out of work by his prospective plans should "get another job."
2018/10/23 21:04
President Trump turned to an unlikely source Tuesday evening to offer support for his hardline immigration policies: his predecessor, Barack Obama.
2018/10/23 20:28
Ed Pawlowski, the former mayor of Allentown, Pennsylvania, was sentenced Tuesday to 15 years in federal prison for rigging city contracts in order to raise cash for his campaigns for higher office.
2018/10/23 20:18
Political forecaster Nate Silver reported Tuesday that the chances of Republicans maintaining control of the House of Representatives are narrowing.
2018/10/23 20:17
Support the Movement
Buy The T-Shirt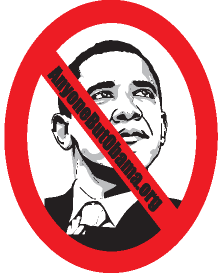 Order other designs on Cafe Press:
Your Ad Here
About Us
---
AnyoneButObama.org is a coalition of Democrats, Republicans and Independents who having done thorough research on the background and politics of Barack Obama have decided to vote for anyone but Obama and to convince as many fellow Americans as possible to vote for Anyone But Obama.
Although the greatest beneficiary of our movement is obviously John McCain, our movement does not formally endorse McCain, nor is our movement partisan in any way shape or form. We are a coalition of every party, every race, every religion, and both genders dedicated to exposing the truth about Obama that has heretofore been suppressed or rationalized by the media. Everything on our site has been vetted and is factually accurate. If ever you find otherwise we encourage you to tell us.
Our goal is to educate as many American voters as possible as to the truth about Barrack Obama, his family, his friends and his associates, and in doing so to convince at least 1 million undecided voters to vote for Anyone But Obama!
Thank you for joining the movement that will save America!