Latest News
A Republican running for a Maryland legislative seat raffled off an AR-15 assault weapon at a Saturday night fundraiser celebrating the Second Amendment — only days after the same type of weapon was used to kill 17 people at a Florida high school.
2018/02/18 20:15
President Donald Trump has boasted repeatedly about his big and powerful "nuclear button" — but, a new report says, it almost got away from him last year in China.
2018/02/18 19:45
Congress' ability to stop gun violence -- as America has demand -- is far more complex than act laws, amid such questions as would more restriction really work and what to voters come Election Day truly want.
2018/02/18 18:30
Sen. Bob Casey, R-Pa., believes it would be a mistake for special counsel Robert Mueller to release his final report on Russian interference in the 2016 election near the fall midterm elections.
2018/02/18 17:52
Former first lady Rosalynn Carter is recovering from surgery at Emory University Hospital.
2018/02/18 14:15
Support the Movement
Buy The T-Shirt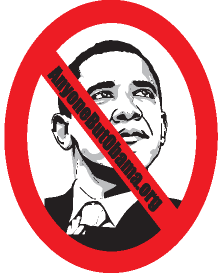 Order other designs on Cafe Press:
Your Ad Here
About Us
---
AnyoneButObama.org is a coalition of Democrats, Republicans and Independents who having done thorough research on the background and politics of Barack Obama have decided to vote for anyone but Obama and to convince as many fellow Americans as possible to vote for Anyone But Obama.
Although the greatest beneficiary of our movement is obviously John McCain, our movement does not formally endorse McCain, nor is our movement partisan in any way shape or form. We are a coalition of every party, every race, every religion, and both genders dedicated to exposing the truth about Obama that has heretofore been suppressed or rationalized by the media. Everything on our site has been vetted and is factually accurate. If ever you find otherwise we encourage you to tell us.
Our goal is to educate as many American voters as possible as to the truth about Barrack Obama, his family, his friends and his associates, and in doing so to convince at least 1 million undecided voters to vote for Anyone But Obama!
Thank you for joining the movement that will save America!