Latest News
White House press secretary Jen Psaki, responding to sexual harassment allegations against New York Gov. Andrew Cuomo, said "any allegation should be reviewed."
2021/02/25 13:37
The White House is "certainly not" worried about anticipated criticisms from former President Donald Trump at the Conservative Political Action Conference (CPAC) this weekend, according to press secretary Jen Psaki. 
2021/02/25 13:36
EXCLUSIVE: Republican Sen. Marsha Blackburn is warning the Biden administration that China is "our adversary," saying Beijing threatens our supply chain and urging the White House to "step up their game."
2021/02/25 13:27
Republican Study Committee Chairman Rep. Jim Banks, R-Ind., and Sen. Tom Cotton, R-Ark., on Wednesday introduced new legislation to sanction a Chinese government-backed "disinformation network."
2021/02/25 13:20
Press secretary Jen Psaki signaled Thursday the Biden White House isn't giving up yet on the nomination fight over Neera Tanden to become the next budget director.
2021/02/25 13:07
Support the Movement
Buy The T-Shirt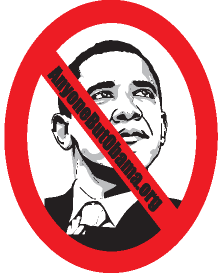 Order other designs on Cafe Press:
Your Ad Here
About Us
---
AnyoneButObama.org is a coalition of Democrats, Republicans and Independents who having done thorough research on the background and politics of Barack Obama have decided to vote for anyone but Obama and to convince as many fellow Americans as possible to vote for Anyone But Obama.
Although the greatest beneficiary of our movement is obviously John McCain, our movement does not formally endorse McCain, nor is our movement partisan in any way shape or form. We are a coalition of every party, every race, every religion, and both genders dedicated to exposing the truth about Obama that has heretofore been suppressed or rationalized by the media. Everything on our site has been vetted and is factually accurate. If ever you find otherwise we encourage you to tell us.
Our goal is to educate as many American voters as possible as to the truth about Barrack Obama, his family, his friends and his associates, and in doing so to convince at least 1 million undecided voters to vote for Anyone But Obama!
Thank you for joining the movement that will save America!