Latest News
Swiss billionaire Hansjorg Wyss is a major funder of a dark money nonprofit that has pushed millions to the Pelosi-aligned House Majority Forward.
2022/05/20 14:29
Hillary Clinton signed off on leaking allegations of a covert communications channel between the Trump Organization and Russia's Alfa Bank to the media.
2022/05/20 13:44
Sens. Steve Daines, R-Mont., and Tom Cotton, R-Ark., say the U.S. must leave the "corrupt and inept" organization, due to the agency's "abysmal lack of competence" during the coronavirus pandemic.
2022/05/20 13:39
Social media giant Facebook has censored a post shared by Sen. Marsha Blackburn, R-Tenn., after she spoke out against biological males competing in women's sports.
2022/05/20 13:23
Ahead of trip to New Hampshire, Sen. Rick Scott of Florida reiterates he's "planning on running" for Senate re-election in 2024 rather than launch a presidential run
2022/05/20 13:08
Support the Movement
Buy The T-Shirt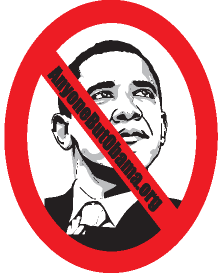 Order other designs on Cafe Press:
Your Ad Here
About Us
---
AnyoneButObama.org is a coalition of Democrats, Republicans and Independents who having done thorough research on the background and politics of Barack Obama have decided to vote for anyone but Obama and to convince as many fellow Americans as possible to vote for Anyone But Obama.
Although the greatest beneficiary of our movement is obviously John McCain, our movement does not formally endorse McCain, nor is our movement partisan in any way shape or form. We are a coalition of every party, every race, every religion, and both genders dedicated to exposing the truth about Obama that has heretofore been suppressed or rationalized by the media. Everything on our site has been vetted and is factually accurate. If ever you find otherwise we encourage you to tell us.
Our goal is to educate as many American voters as possible as to the truth about Barrack Obama, his family, his friends and his associates, and in doing so to convince at least 1 million undecided voters to vote for Anyone But Obama!
Thank you for joining the movement that will save America!