Latest News
Joe Biden's promise to "transition" from the oil industry and fossil fuel exploration will kill the economy in Texas and other states while increasing energy costs and causing massive job losses, Fox News contributor Karl Rove told "The Ingraham Angle" Wednesday.
2020/10/29 00:19
A senior Oregon health official is going viral for dressing up as a clown to announce the latest coronavirus death toll.
2020/10/28 23:36
The Democrats' "endgame" is to transform America into a far-left, Marxist state where dissent is not permitted, Donald Trump Jr. told "Hannity" Wednesday night.
2020/10/28 23:19
The Girl Scouts of America deleted a social media post on its official Twitter and Facebook pages Wednesday evening congratulating Amy Coney Barrett on her appointment to the Supreme Court.
2020/10/28 23:15
President Trump allowed Sen. Martha McSally some stage time during his rally in Goodyear, Ariz., on Wednesday, but didn't appear to extend to her the typical enthusiasm he generally reserves for Republican leaders when visiting campaign stops.
2020/10/28 22:57
Support the Movement
Buy The T-Shirt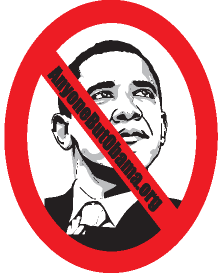 Order other designs on Cafe Press:
Your Ad Here
About Us
---
AnyoneButObama.org is a coalition of Democrats, Republicans and Independents who having done thorough research on the background and politics of Barack Obama have decided to vote for anyone but Obama and to convince as many fellow Americans as possible to vote for Anyone But Obama.
Although the greatest beneficiary of our movement is obviously John McCain, our movement does not formally endorse McCain, nor is our movement partisan in any way shape or form. We are a coalition of every party, every race, every religion, and both genders dedicated to exposing the truth about Obama that has heretofore been suppressed or rationalized by the media. Everything on our site has been vetted and is factually accurate. If ever you find otherwise we encourage you to tell us.
Our goal is to educate as many American voters as possible as to the truth about Barrack Obama, his family, his friends and his associates, and in doing so to convince at least 1 million undecided voters to vote for Anyone But Obama!
Thank you for joining the movement that will save America!