Latest News
One of President Trump's attorneys told Fox News late Saturday Attorney General William Barr will release Special Counsel Robert Mueller's primary conclusions in his concluded Russia investigation at 12 p.m. ET on Sunday, in a letter expected to be sent immediately to lawmakers and Trump's attorneys.
2019/03/23 17:54
Jokes and memes were abundant on social media after the surprise announcement that Special Counsel Robert Mueller submitted the long-awaited report on suspected Russian interference in the 2016 presidential election.
2019/03/23 11:19
For Washington insiders, the waiting game isn't easy. Speculation about the hotly anticipated report's contents has been rampant. Still, in a show of confidence, President Trump waved and flashed two thumbs up to supporters as he returned to his Florida Mar-a-Lago estate on Saturday. 
2019/03/23 10:50
2019/03/23 10:19
Conservative author Jerome Corsi declared he's "vindicated" after the Special Counsel Robert Mueller ended the Russia investigation and recommends no new indictments.
2019/03/23 09:46
Support the Movement
Buy The T-Shirt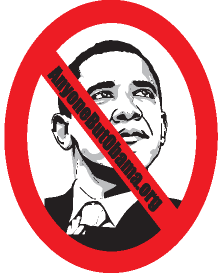 Order other designs on Cafe Press:
Your Ad Here
About Us
---
AnyoneButObama.org is a coalition of Democrats, Republicans and Independents who having done thorough research on the background and politics of Barack Obama have decided to vote for anyone but Obama and to convince as many fellow Americans as possible to vote for Anyone But Obama.
Although the greatest beneficiary of our movement is obviously John McCain, our movement does not formally endorse McCain, nor is our movement partisan in any way shape or form. We are a coalition of every party, every race, every religion, and both genders dedicated to exposing the truth about Obama that has heretofore been suppressed or rationalized by the media. Everything on our site has been vetted and is factually accurate. If ever you find otherwise we encourage you to tell us.
Our goal is to educate as many American voters as possible as to the truth about Barrack Obama, his family, his friends and his associates, and in doing so to convince at least 1 million undecided voters to vote for Anyone But Obama!
Thank you for joining the movement that will save America!