Latest News
Democrats' push to "defund the police" is backfiring as protests spread into elite neighborhoods and produce more violence in U.S. cities, attorney and U.S. Commission on Civil Rights member Peter Kirsanow argued on Monday.
2020/08/11 00:08
The FBI under Director Christopher Wray's leadership deceived lawmakers on the Senate Intelligence Committee during a 2018 briefing on the Russia investigation, Senate Judiciary Committee Chairman Lindsey Graham told "Hannity" Monday, citing a document he obtained from the Department of Justice.
2020/08/10 23:48
Joe Biden's presidential campaign is preparing to announce his running mate during the middle of this week after the presumptive Democratic nominee finished interviewing every finalist to run with him in November, the New York Times reported Monday.
2020/08/10 21:12
The United States is broaching the topic of human rights issues with China at the United Nations whenever it can, U.S. Ambassador to the U.N. Kelly Craft told "The Story" Monday night.
2020/08/10 20:53
President Trump on Monday argued the U.S. government surveillance of people connected to his 2016 campaign during the Obama era could be a "potential liability" for former national security adviser Susan Rice if selected as Joe Biden's running mate.
2020/08/10 20:47
Support the Movement
Buy The T-Shirt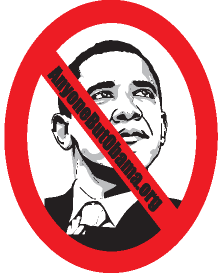 Order other designs on Cafe Press:
Your Ad Here
About Us
---
AnyoneButObama.org is a coalition of Democrats, Republicans and Independents who having done thorough research on the background and politics of Barack Obama have decided to vote for anyone but Obama and to convince as many fellow Americans as possible to vote for Anyone But Obama.
Although the greatest beneficiary of our movement is obviously John McCain, our movement does not formally endorse McCain, nor is our movement partisan in any way shape or form. We are a coalition of every party, every race, every religion, and both genders dedicated to exposing the truth about Obama that has heretofore been suppressed or rationalized by the media. Everything on our site has been vetted and is factually accurate. If ever you find otherwise we encourage you to tell us.
Our goal is to educate as many American voters as possible as to the truth about Barrack Obama, his family, his friends and his associates, and in doing so to convince at least 1 million undecided voters to vote for Anyone But Obama!
Thank you for joining the movement that will save America!