Latest News
An expert campaign finance lawyer said in an interview published Monday that he is not impressed with the Department of Justice's evidence that effectively links President Trump to campaign finance violations after the recent release of the Michael Cohen sentencing memo.
2018/12/10 04:24
Jerome Corsi, the conservative author accused of lying under oath to Special Counsel Robert Mueller's investigators, filed a federal lawsuit late Sunday accusing Mueller of leaking grand jury items and various constitutional violations, including illegal surveillance, reports said.
2018/12/09 23:41
Former FBI Director James Comey said Sunday in an interview that President Trump, if it's proved that he directed illegal hush-money payments to women, would be in violation of campaign finance laws, but he is lucky that the rule of the Justice Department remains that a sitting president cannot be indicted.
2018/12/09 22:16
 Former U.S. Agriculture Secretary Bob Bergland, a farmer from northern Minnesota who was tasked with selling President Jimmy Carter's unpopular Soviet Union grain embargo to other farmers, died Sunday. He was 90.
2018/12/09 19:06
California Democratic Rep. Adam Schiff disclosed in an interview Sunday that Democrats are in talks with counsel for former Trump attorney Michael Cohen to "bring him back" for further testimony, less than two weeks after Cohen pleaded guilty to lying to Congress in 2017 about an abandoned Trump Organization project in Moscow.
2018/12/09 17:19
Support the Movement
Buy The T-Shirt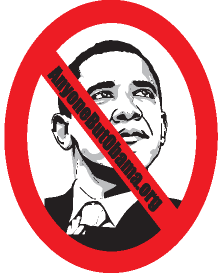 Order other designs on Cafe Press:
Your Ad Here
About Us
---
AnyoneButObama.org is a coalition of Democrats, Republicans and Independents who having done thorough research on the background and politics of Barack Obama have decided to vote for anyone but Obama and to convince as many fellow Americans as possible to vote for Anyone But Obama.
Although the greatest beneficiary of our movement is obviously John McCain, our movement does not formally endorse McCain, nor is our movement partisan in any way shape or form. We are a coalition of every party, every race, every religion, and both genders dedicated to exposing the truth about Obama that has heretofore been suppressed or rationalized by the media. Everything on our site has been vetted and is factually accurate. If ever you find otherwise we encourage you to tell us.
Our goal is to educate as many American voters as possible as to the truth about Barrack Obama, his family, his friends and his associates, and in doing so to convince at least 1 million undecided voters to vote for Anyone But Obama!
Thank you for joining the movement that will save America!