Latest News
Trump-backed GOP Rep. Ted Budd received a key law enforcement endorsement Wednesday over Democrat opponent Cheri Beasley vying for retiring Republican Richard Burr's Senate seat.
2022/08/10 14:00
Rep. Dan Bishop criticized the FBI raid at former President Trump's Mar-a-Lago home as akin to a dangerous "security state," as more Americans feel government "out of their control."
2022/08/10 13:23
House Republicans and outside groups are whipping against the $700 billion Manchin-Schumer tax, climate and health care bill ahead of an expected vote on Friday.
2022/08/10 13:13
House Democrats in tough midterm races refused to say how they plant to vote on the Inflation Reduction Act or how they feel about hiring thousands of new IRS agents.
2022/08/10 12:54
Democratic Georgia gubernatorial candidate Stacey Abrams announced Wednesday that she has tested positive for COVID-19. She said she had tested negative on Tuesday.
2022/08/10 12:12
Support the Movement
Buy The T-Shirt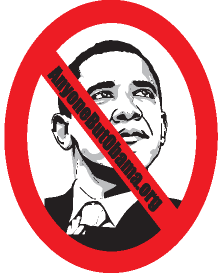 Order other designs on Cafe Press:
Your Ad Here
About Us
---
AnyoneButObama.org is a coalition of Democrats, Republicans and Independents who having done thorough research on the background and politics of Barack Obama have decided to vote for anyone but Obama and to convince as many fellow Americans as possible to vote for Anyone But Obama.
Although the greatest beneficiary of our movement is obviously John McCain, our movement does not formally endorse McCain, nor is our movement partisan in any way shape or form. We are a coalition of every party, every race, every religion, and both genders dedicated to exposing the truth about Obama that has heretofore been suppressed or rationalized by the media. Everything on our site has been vetted and is factually accurate. If ever you find otherwise we encourage you to tell us.
Our goal is to educate as many American voters as possible as to the truth about Barrack Obama, his family, his friends and his associates, and in doing so to convince at least 1 million undecided voters to vote for Anyone But Obama!
Thank you for joining the movement that will save America!