Latest News
Mark McCloskey, a St. Louis attorney who, along with his wife, armed himself and confronted Black Lives Matter protesters outside their home last summer, said he is considering a run for a U.S. Senate seat.
2021/04/21 02:12
Former President Bill Clinton and former Secretary of State Hillary Clinton each reacted to Tuesday's verdict in the Derek Chauvin murder trial.
2021/04/20 23:50
Author and conservative analyst Candace Owens reacted to the guilty verdict lodged against former Minneapolis Police Officer Derek Chauvin in the death of George Floyd as a symptom of a perpetual media and Democrat Party narrative absent many facts about the case.
2021/04/20 22:58
State Assemblyman Ron Kim, a leading Democratic critic of Gov. Andrew Cuomo's handling of the coronavirus crisis in New York nursing homes, is lauding a second criminal probe into the governor's alleged misconduct following allegations that he used taxpayer resources to write and promote his book on pandemic leadership.
2021/04/20 21:56
In an exclusive interview with Fox News, Donna Zaccaro says, Walter Mondale, who passed at age 93 Monday, shall be remembered "as a champion of civil rights and equality, and just a decent, honorable, wonderful man." 
2021/04/20 21:47
Support the Movement
Buy The T-Shirt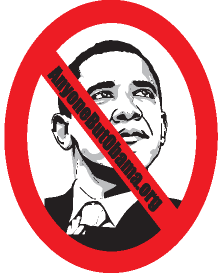 Order other designs on Cafe Press:
Your Ad Here
He has a racist wife who has expressed, as recently as this year, a lack of pride in America.
---
Twice during the primary season Michelle Obama said the following at a rally: "For the first time in my adult life, I am proud to be an American." She also recently referred to America as "downright mean." The fact that the media did not scrutinize these comment is shocking! The woman who aspires to be the First Lady of the United States of America was not proud when the Untied States defeated the Soviet Union and brought down the Berlin Wall, or when we spread the benefits of the internet and e-commerce to the entire world, or when we helped to liberate Afghanistan and Kuwait from Soviet and Iraqi conquerors, etc, etc . . . Apparently, Michelle Obama is only proud of America when her husband has a chance to rule it!
We get a good glimpse into Michelle Obama's disdain for America, and in particular white Americans, from her senior thesis at Princeton. In her thesis, entitled, "Princeton-Educated Blacks and the Black Community," Michelle Obama railed against "further integration and/or assimilation into white cultural and social structure that will only allow me to remain on the periphery of society; never becoming a full participant."
The following is an excerpt from "Michelle Obama Thesis was on Racial Divide" by Politico's Jeffrey Ressner:
Michelle Obama's senior year thesis at Princeton University, obtained from the campaign by Politico, shows a document written by a young woman grappling with a society in which a black Princeton alumnus might only be allowed to remain "on the periphery." Read the full thesis here: Part 1, Part 2, Part 3, Part 4.
"My experiences at Princeton have made me far more aware of my 'blackness' than ever before," the future Mrs. Obama wrote in her thesis introduction. "I have found that at Princeton, no matter how liberal and open-minded some of my white professors and classmates try to be toward me, I sometimes feel like a visitor on campus; as if I really don't belong. Regardless of the circumstances under which I interact with whites at Princeton, it often seems as if, to them, I will always be black first and a student second."
The thesis, titled "Princeton-Educated Blacks and the Black Community" and written under her maiden name, Michelle LaVaughn Robinson, in 1985, has been the subject of much conjecture on the blogosphere and elsewhere in recent weeks, as it has been "temporarily withdrawn" from Princeton's library until after this year's presidential election in November. Some of the material has been written about previously, however, including a story last year in the Newark Star Ledger.
Obama writes that the path she chose by attending Princeton would likely lead to her "further integration and/or assimilation into a white cultural and social structure that will only allow me to remain on the periphery of society; never becoming a full participant."
Read the thesis yourself by following these links:
Part 1
http://www.politico.com/pdf/080222_MOPrincetonThesis_1-251.pdf
Part 2
http://www.politico.com/pdf/080222_MOPrincetonThesis_26-501.pdf
Part 3
http://www.politico.com/pdf/080222_MOPrincetonThesis_51-751.pdf
Part 4
http://dyn.politico.com/pdf/080222_MOPrincetonThesis_76-981.pdf