Latest News
Calling opioids coming into the U.S. from China and Mexico "almost a form of warfare," President Trump on Thursday urged Attorney General Jeff Sessions to investigate foreign sources of fentanyl that he said are "killing our people."
2018/08/16 16:45
Lara Trump tore into her old friend Omarosa Manigault Newman on Thursday after she released a tape of the president's daughter-in-law offering her a job on the 2020 campaign shortly after being fired from the White House.
2018/08/16 15:01
President Trump abruptly revoked the security clearance of former CIA director John Brennan this week, and he threatened to strip a bevy of other former national security officials of theirs as well.
2018/08/16 13:49
President Trump's revocation of former CIA Director John Brennan's security clearance has set off a debate among lawyers: does Brennan have the right to appeal the decision?
2018/08/16 13:41
Rep. Jim Clyburn, the third-ranking House Democrat, confirmed his intention to run for speaker of the House if his party takes the chamber in November and Nancy Pelosi struggles for support.
2018/08/16 12:02
Support the Movement
Buy The T-Shirt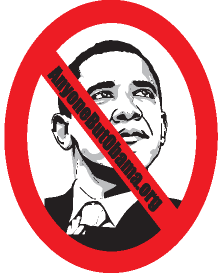 Order other designs on Cafe Press:
Your Ad Here
He has a racist wife who has expressed, as recently as this year, a lack of pride in America.
---
Twice during the primary season Michelle Obama said the following at a rally: "For the first time in my adult life, I am proud to be an American." She also recently referred to America as "downright mean." The fact that the media did not scrutinize these comment is shocking! The woman who aspires to be the First Lady of the United States of America was not proud when the Untied States defeated the Soviet Union and brought down the Berlin Wall, or when we spread the benefits of the internet and e-commerce to the entire world, or when we helped to liberate Afghanistan and Kuwait from Soviet and Iraqi conquerors, etc, etc . . . Apparently, Michelle Obama is only proud of America when her husband has a chance to rule it!
We get a good glimpse into Michelle Obama's disdain for America, and in particular white Americans, from her senior thesis at Princeton. In her thesis, entitled, "Princeton-Educated Blacks and the Black Community," Michelle Obama railed against "further integration and/or assimilation into white cultural and social structure that will only allow me to remain on the periphery of society; never becoming a full participant."
The following is an excerpt from "Michelle Obama Thesis was on Racial Divide" by Politico's Jeffrey Ressner:
Michelle Obama's senior year thesis at Princeton University, obtained from the campaign by Politico, shows a document written by a young woman grappling with a society in which a black Princeton alumnus might only be allowed to remain "on the periphery." Read the full thesis here: Part 1, Part 2, Part 3, Part 4.
"My experiences at Princeton have made me far more aware of my 'blackness' than ever before," the future Mrs. Obama wrote in her thesis introduction. "I have found that at Princeton, no matter how liberal and open-minded some of my white professors and classmates try to be toward me, I sometimes feel like a visitor on campus; as if I really don't belong. Regardless of the circumstances under which I interact with whites at Princeton, it often seems as if, to them, I will always be black first and a student second."
The thesis, titled "Princeton-Educated Blacks and the Black Community" and written under her maiden name, Michelle LaVaughn Robinson, in 1985, has been the subject of much conjecture on the blogosphere and elsewhere in recent weeks, as it has been "temporarily withdrawn" from Princeton's library until after this year's presidential election in November. Some of the material has been written about previously, however, including a story last year in the Newark Star Ledger.
Obama writes that the path she chose by attending Princeton would likely lead to her "further integration and/or assimilation into a white cultural and social structure that will only allow me to remain on the periphery of society; never becoming a full participant."
Read the thesis yourself by following these links:
Part 1
http://www.politico.com/pdf/080222_MOPrincetonThesis_1-251.pdf
Part 2
http://www.politico.com/pdf/080222_MOPrincetonThesis_26-501.pdf
Part 3
http://www.politico.com/pdf/080222_MOPrincetonThesis_51-751.pdf
Part 4
http://dyn.politico.com/pdf/080222_MOPrincetonThesis_76-981.pdf