Latest News
"I abandon the chair!"
2019/07/17 20:48
President Trump, at a fiery "Make America Great Again" campaign rally Wednesday night in Greenville, North Carolina, blasted four progressive congresswomen, Reps. Ilhan Omar of Minnesota, Rashida Tlaib of Michigan, Alexandria Ocasio-Cortez of New York and Ayanna Pressley of Massachusettes, who he continues to spar with after an ongoing feud over comments he made against them that they deemed "racist."
2019/07/17 19:22
The names of the 20 Democratic presidential candidates who will take part in the second round of primary debates is now official. The Democratic National Committee and CNN, it's media partner for the consecutive nights of showdowns that will take place July 30-31 in Detroit, on Wednesday announced which candidates made the cut.
2019/07/17 18:44
The Trump administration is beefing up troop levels at the U.S.-Mexico border, with the new acting defense secretary, Richard Spencer, on Tuesday approving a Department of Homeland Security request for an additional 2,100. 
2019/07/17 18:19
The House of Representatives on Wednesday voted to set aside a resolution by Rep. Al Green, D-Texas, to introduce article of impeachment against President Trump – the third time the Houston-area lawmaker has taken a shot at impeaching the president, but the first since Democrats regained control of the House.
2019/07/17 17:50
Support the Movement
Buy The T-Shirt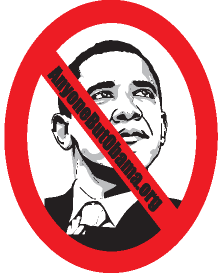 Order other designs on Cafe Press:
Your Ad Here
He is categorically opposed to offshore oil drilling for the purpose of lowering gas prices.
---
In Orwellian logic, Obama believes we should allow China, Mexico and others to drill our oil in the gulf of Mexico and the Atlantic Ocean instead of drilling it ourselves. Instead of increasing supply in order to bring aggregate prices down, Obama believes the key to solving the gas crisis is greatly taxing the oil companies and giving the tax revenue from that levy back to the American people. The only problem with this logic is that the American people will be brought back to square one, as the oil companies will simply increase the price of oil by the same extent to which they are additionally taxed. Obama clearly did not take Macroeconomics 101: Given the same demand, prices only go down when supply goes up. In order for supply to go up, you must drill, drill, drill!