Latest News
Lawmakers across the aisle Sunday described North Korea's announcement that it would halt nuclear tests and missile launches as essentially a publicity stunt.
2018/04/22 17:00
Senate Foreign Relations Committee Chairman Bob Corker on Sunday dismissed criticism about Republicans "ramming" Mike Pompeo's nomination as secretary of state through the chamber, saying Senate Democrats have blocked the "highly qualified" Pompeo from getting the post just to appease their anti-Trump base.
2018/04/22 15:15
President Trump on Sunday dismissed comments by NBC News' Chuck Todd suggesting that the United States is getting steamrolled in negotiations with North Korea over the rogue nation halting its nuclear weapons program, saying, "We haven't given up anything."
2018/04/22 10:20
French President Emmanuel Macron insisted Sunday that he has a solid relationship with President Trump, ahead of his Washington visit this week, but also appeared to caution the president about his aggressive stances on Iran, climate change and international trade, in an exclusive "Fox News Sunday" interview.
2018/04/22 08:44
A Texas appeals court last week struck down a state law that criminalized the sharing of sexually explicit photos and videos of an individual online without their consent, ruling the "revenge porn" measure a violation of the First Amendment.
2018/04/22 04:15
Support the Movement
Buy The T-Shirt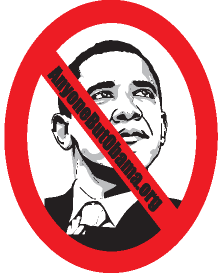 Order other designs on Cafe Press:
Your Ad Here
He is categorically opposed to offshore oil drilling for the purpose of lowering gas prices.
---
In Orwellian logic, Obama believes we should allow China, Mexico and others to drill our oil in the gulf of Mexico and the Atlantic Ocean instead of drilling it ourselves. Instead of increasing supply in order to bring aggregate prices down, Obama believes the key to solving the gas crisis is greatly taxing the oil companies and giving the tax revenue from that levy back to the American people. The only problem with this logic is that the American people will be brought back to square one, as the oil companies will simply increase the price of oil by the same extent to which they are additionally taxed. Obama clearly did not take Macroeconomics 101: Given the same demand, prices only go down when supply goes up. In order for supply to go up, you must drill, drill, drill!