Latest News
Stitt accused the president of pandering to his "radical base" by attacking the new abortion bill instead of dealing with the mounting crises the Biden administration faces.
2022/05/20 15:48
Former Clinton campaign manager Robby Mook testified Friday that campaign officials "did not trust" the FBI in 2016
2022/05/20 15:11
San Francisco Archbishop Salvatore Cordileone announced Friday that House Speaker Nancy Pelosi is barred from receiving Holy Communion due to her pro-abortion stance -- marking an escalation in a decades-long tension between the Roman Catholic Church and liberal Democratic politicians on abortion.
2022/05/20 15:10
Swiss billionaire Hansjorg Wyss is a major funder of a dark money nonprofit that has pushed millions to the Pelosi-aligned House Majority Forward.
2022/05/20 14:29
Hillary Clinton signed off on leaking allegations of a covert communications channel between the Trump Organization and Russia's Alfa Bank to the media.
2022/05/20 13:44
Support the Movement
Buy The T-Shirt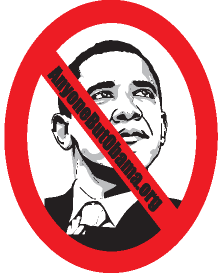 Order other designs on Cafe Press:
Your Ad Here
He is categorically opposed to offshore oil drilling for the purpose of lowering gas prices.
---
In Orwellian logic, Obama believes we should allow China, Mexico and others to drill our oil in the gulf of Mexico and the Atlantic Ocean instead of drilling it ourselves. Instead of increasing supply in order to bring aggregate prices down, Obama believes the key to solving the gas crisis is greatly taxing the oil companies and giving the tax revenue from that levy back to the American people. The only problem with this logic is that the American people will be brought back to square one, as the oil companies will simply increase the price of oil by the same extent to which they are additionally taxed. Obama clearly did not take Macroeconomics 101: Given the same demand, prices only go down when supply goes up. In order for supply to go up, you must drill, drill, drill!