Latest News
The Trump administration will propose merging the Labor Department with the Education Department as part of a larger effort to reorganize the federal government, The Wall Street Journal reported late Wednesday.
2018/06/20 22:45
The Department of Health and Human Services backed away late Wednesday from an official's claim that more than 2,000 immigrant children separated from their parents at the U.S.-Mexico border would not be reunited with their families right away despite President Trump's executive order aimed at keeping families together.
2018/06/20 21:30
Federal authorities have subpoenaed the publisher of the National Enquirer for records related to its $150,000 payment to a former Playboy model for the rights to her story alleging an affair with Donald Trump, according to people familiar with the matter.
2018/06/20 20:45
Democrats expressed concerns Wednesday about President Trump's executive order, which will allow parents who have crossed the U.S. border illegally to remain with their children.
2018/06/20 20:45
Republican lawmakers fighting to maintain their majorities in Congress after November's midterms are scrambling for a solution to a problem they see as a political loser: existing laws that allow border crossing children to be separated from their parents.
2018/06/20 20:30
Support the Movement
Buy The T-Shirt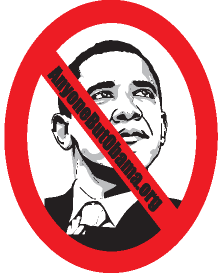 Order other designs on Cafe Press:
Your Ad Here
He is categorically opposed to offshore oil drilling for the purpose of lowering gas prices.
---
In Orwellian logic, Obama believes we should allow China, Mexico and others to drill our oil in the gulf of Mexico and the Atlantic Ocean instead of drilling it ourselves. Instead of increasing supply in order to bring aggregate prices down, Obama believes the key to solving the gas crisis is greatly taxing the oil companies and giving the tax revenue from that levy back to the American people. The only problem with this logic is that the American people will be brought back to square one, as the oil companies will simply increase the price of oil by the same extent to which they are additionally taxed. Obama clearly did not take Macroeconomics 101: Given the same demand, prices only go down when supply goes up. In order for supply to go up, you must drill, drill, drill!