Latest News
Connecticut, Minnesota, Vermont and Wisconsin hold primaries on Tuesday, with a Georgia holding a Republican primary runoff in the state's 14th Congressional District.
2020/08/11 05:00
Democrats' push to "defund the police" is backfiring as protests spread into elite neighborhoods and produce more violence in U.S. cities, attorney and U.S. Commission on Civil Rights member Peter Kirsanow argued on Monday.
2020/08/11 00:08
The FBI under Director Christopher Wray's leadership deceived lawmakers on the Senate Intelligence Committee during a 2018 briefing on the Russia investigation, Senate Judiciary Committee Chairman Lindsey Graham told "Hannity" Monday, citing a document he obtained from the Department of Justice.
2020/08/10 23:48
Joe Biden's presidential campaign is preparing to announce his running mate during the middle of this week after the presumptive Democratic nominee finished interviewing every finalist to run with him in November, the New York Times reported Monday.
2020/08/10 21:12
The United States is broaching the topic of human rights issues with China at the United Nations whenever it can, U.S. Ambassador to the U.N. Kelly Craft told "The Story" Monday night.
2020/08/10 20:53
Support the Movement
Buy The T-Shirt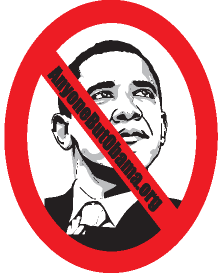 Order other designs on Cafe Press:
Your Ad Here
He is categorically opposed to offshore oil drilling for the purpose of lowering gas prices.
---
In Orwellian logic, Obama believes we should allow China, Mexico and others to drill our oil in the gulf of Mexico and the Atlantic Ocean instead of drilling it ourselves. Instead of increasing supply in order to bring aggregate prices down, Obama believes the key to solving the gas crisis is greatly taxing the oil companies and giving the tax revenue from that levy back to the American people. The only problem with this logic is that the American people will be brought back to square one, as the oil companies will simply increase the price of oil by the same extent to which they are additionally taxed. Obama clearly did not take Macroeconomics 101: Given the same demand, prices only go down when supply goes up. In order for supply to go up, you must drill, drill, drill!