Latest News
Vice President Mike Pence told West Point's most diverse graduating class in history that they will go to war for America at some point in their life.
2019/05/26 13:37
Rep. Liz Cheney, R-Wyo, said in an interview aired Sunday that text messages between former FBI investigators Peter Strzok and Lisa Page "sound an awful lot like a coup" and could even be treason.
2019/05/26 13:11
President Trump has authorized Attorney General Bill Barr to declassify all materials related to the Russia investigation, and Sen. Lindsey Graham is giving his full support.
2019/05/26 11:56
New York City Mayor and Democratic presidential hoeful Bill de Blasio is trying to fight against negative polls and questions about his likability, while attacking President Trump, hoping that voters will want to see the two clash in 2020.
2019/05/26 10:34
Democratic 2020 presidential hopeful Pete Buttigieg, in an interview aired Sunday, said President Trump had slandered American troops by considering pardoning soldiers accused of war crimes -- and said the proposal threatened to undermine the country's "legal and moral" foundations.
2019/05/26 10:06
Support the Movement
Buy The T-Shirt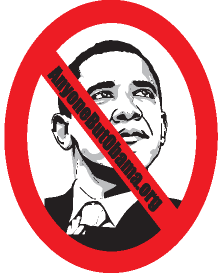 Order other designs on Cafe Press:
Your Ad Here
He is categorically opposed to offshore oil drilling for the purpose of lowering gas prices.
---
In Orwellian logic, Obama believes we should allow China, Mexico and others to drill our oil in the gulf of Mexico and the Atlantic Ocean instead of drilling it ourselves. Instead of increasing supply in order to bring aggregate prices down, Obama believes the key to solving the gas crisis is greatly taxing the oil companies and giving the tax revenue from that levy back to the American people. The only problem with this logic is that the American people will be brought back to square one, as the oil companies will simply increase the price of oil by the same extent to which they are additionally taxed. Obama clearly did not take Macroeconomics 101: Given the same demand, prices only go down when supply goes up. In order for supply to go up, you must drill, drill, drill!