Latest News
A Republican who's challenging U.S. Rep. Ilhan Omar, D-Minn., in November decried "silence" on a recent spate of deadly gun violence in Chicago amid the media focus on the death of George Floyd in Minneapolis.
2020/06/06 23:58
Former President George W. Bush and Sen. Mitt Romney, R-Utah, are reportedly not expected to support the reelection of President Trump -- two high profile GOP figures who are believed to be avoiding backing the Republican president in November.
2020/06/06 23:13
Minneapolis' Democratic Mayor Jacob Frey was booed out of a protest on Saturday after reportedly refusing to back far-left calls to defund the Minneapolis Police Department -- a week after riots and looting tore through the city.
2020/06/06 20:34
After more than a week of George Floyd protests, thousands of New Yorkers gathered Saturday for another day of demonstrations against police brutality and racial equality in the U.S.
2020/06/06 19:52
New York Gov. Andrew Cuomo declared Saturday that New York "crushed" the curve and "did the impossible" as the state begins to re-open after the peak of the coronavirus pandemic appears to have passed -- even as he faces criticism over his handling of the virus.
2020/06/06 19:32
Support the Movement
Buy The T-Shirt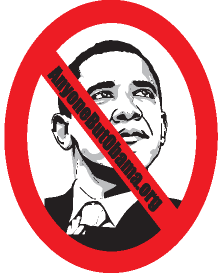 Order other designs on Cafe Press:
Your Ad Here
He will greatly expand government and raise taxes for most Americans.
---
Obama would uncap Social Security tax, which is currently capped at $102,000. This would have a dramatically negative effect on small business owners and those self-employed, and may literally drive thousands of American business out of business. Furthermore, Obama will increase the Social Security tax up to 12.4% which would increase the top marginal tax rate from 44.6% to a whopping 62.8%.
As Kimberly Strassel wrote in the Wall Street Journal: "Mr. Obama is hawking a tax policy that would take the nation back to the effective marginal tax rates of the Carter days. He wants to further tax income, payroll, capital gains, dividends and death. His philosophy is pure redistribution."
By simultaneously increasing payroll taxes and capital gains taxes, Obama would ensure a rush of small and mid-sized businesses off our shores and into the hands of welcoming foreign countries that would support the flourishing of same business and offer them much more favorable tax incentives. That loss of business in America would drastically increase the unemployment rate which would further drag down aggregate GDP.
Contrary to Obama's claims, Obama actually will raise aggregate taxes more on poor people than rich people. The following are conclusions of a study done by the non-partisan tax watchdog group, Americans for Tax Reform:
On earned income tax, Obama will only tax the rich slightly more than would McCain, with McCain's plan calling for a 35% top rate and Obama's calling for a 39.6% top rate. However, the lowest tax rate under the Obama plan will increase by 50% - from 10% to 15%; whereas McCain would keep it at its current 10%.
On Capital gains from the sale of stocks and real estate, McCain would keep the rate at 15% and Obama would raise it to 20%. This will take a disproportionate toll on the upper-middle class, which has most of its liquid assets in stocks and other securities.
On dividends, McCain would keep the current tax at 15% and Obama would increase it to a whopping 39.6%.
McCain would eliminate the marriage penalty for household incomes under $150,000; Obama would apply a full marriage penalty from dollar one.
On the death tax, McCain would make the first $5 million exempt, and anything above that would be taxed at a rate of 15%. Obama would only exempt the first $1 million, and the remainder would be subject to a whopping 55% tax rate.
Obama's tax plan would decimate small businesses. Whereas McCain would keep the self-employment maximum tax rate at 37.9%, Obama would drastically increase it to 54.9%!