Support the Movement
Buy The T-Shirt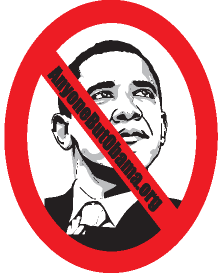 Order other designs on Cafe Press:
Your Ad Here
He has been closely affiliated with terrorists, supporters of terrorists, criminals and sundry left wing fanatics.
---
Barrack Obama's first political mentor and father figure in Hawaii was a relatively well-known black writer and poet named Frank Marshall Davis who was an activist in the Soviet-controlled Communist Party USA (CPUSA). Obama continued his communist training and indoctrination at his first college, Occidental. According to Obama's book, Dreams From My Father, Obama spent much of his free college time with "Marxist professors and structural feminists and punk rock performance poets," with whom he "discussed neocolonialism." Before leaving to college, "Frank" warned the young Barrack, ". . don't start believing what they tell you about equal opportunity and the American way and all that shit."
Barrack Obama's leftism continued in full force, albeit subtly, on the streets of Chicago. Obama was a "community organizer" and lawyer for ACORN (Association of Community Organizations for Reform Now), which actively supports the welfare state, illegal immigration, and voter fraud. In fact, in July of 2007 ACORN settled Washington State's largest voter fraud case in history after seven ACORN employees were caught submitting close to 2,000 fraudulent voter registration forms.
Obama is known to have been friends with left-wing fanatic and Weatherman terrorist Bill Ayers, who is responsible for dozens of bombings between 1969 and 1975, and who also served on two different boards with Obama. Ayers went "underground" after others in his group accidentally set off a bomb in a New York City townhouse which killed 3 people. On May 19, 1972 Ayers bombed the Pentagon. In his memoirs he recalls gleefully, "Everything was absolutely ideal on the day I bombed the Pentagon. The sky was blue. The birds were singing. And the bastards were finally going to get what was coming to them." After 9-11, Ayers told the New York Times, "I don't regret setting bombs," and "[we] didn't do enough." Just a few days prior to that interview, Ayers donated $200 to Obama's campaign.
When George Stephanopoulos challenged Obama in an interview to explain his relationship with Ayers, Obama dismissed the relationship as "a guy who lives in my neighborhood." Nothing could be further from the truth! Obama's political career began with him raising funds in Ayers living room. Ayers and Obama worked together in the context of the Chicago Annenberg Challenge through which Ayers hoped to include left-wing indoctrination in the city's public school system. Later on in is career as an "organizer", Obama worked closely with Ayers at the Woods Fund which conveniently gave a $6,000 grant to Obama's radical Trinity United Church. Furthermore, Obama did nothing to condemn Ayers after he was prominently pictured stomping on an American flag in the August, 2001 edition of Chicago Magazine.
Barrack Obama made a joint appearance with Ayers at the University of Chicago in 1997 at the behest of Michelle Obama who was then the university's Associate Dean of Student Services. The subject of the panel discussion was "Should a Child Ever Be Called a 'Super Predator?'" It is interesting that the Obamas invited Ayers to give his expertise on this subject years after Ayers publicly declared that children should kill their parents because "that's where it's at!"
One of Obama's first political backers was corrupt Chicago slumlord Tony Rezko, who was a client of Obama's boss Allison Davis at Davis, Miner and Barnhill in 1993. Davis went into business with Tony Rezko after leaving the firm in 2000 and used her connections with Obama to have favors done for her and Rezko. Obama, and Ayers both sat on the board of the Woods Fund which gave a grant to Allison Davis's project, Rejuvenation LP. Obama did not recuse himself from that vote, which is what he should have done given his personal connections.
Tony Rezko hosted fundraisers in is home for Obama during Obama's US Senate campaign. Rezko raised $14 million for Obama that year. Rezko also sold a lot to the Obamas for pennies on the dollar. In order to avoid the specter of scandal, Obama returned $85,000 that Rezko and his family personally donated to his campaign.
Obama's initial international financial base was none other than left-wing fanatic hedge fund guru George Soros, who is well known for being a strong critic of Israel and who has helped create an anti-Israel lobby to countervail the activities of AIPAC. Soros has stated that America needs to go through a "certain de-Nazification process" so that it can extricate itself from Iraq. Soros has also had close relations with the anti-Israel advisors to Obama's campaign noted above.
Obama is known to have been particularly close with ex-PLO terrorist and now Columbia University professor Rashid Khalidi. Obama and Khalidi were fellow board members of a foundation that funded the Arab American Action Network, a fiercely pro-Palestinian organization. Obama has admitted that Khalidi has changed Obama's views and attitudes about the world. Obama is considered in Chicago to be a close friend of the Palestinian Arabs. Not a surprise, given the facts. Rashid Khalidi and William Ayers have also funneled money between them. In Obama's last year on the board of the Woods Fund, he voted with Ayers to award $70,000 in grant money to the American Action Network, which was founded by Rahsid and Mona Khalidi.
Obama also has a history of working with and supporting leftists and criminals in other countries. In 2006, Obama threw his support behind his cousin, violent Kenyan opposition leader, now Prime Minister, Raila Odinga. Odinga believes in establishingshariah law in Kenya and suppressing all non-Muslims. Odinga has ties to Al-Qaeda and his Orange Revolutionary Party is responsible for the systematic rape and murder of thousands of Kenyan Christians, some of whom were burned alive in a church. Obama actually went to Kenya and spoke at rallies in favor of Odinga, causing the then-Kenyan government to denounce him.
Odinga was set up in the oil business by the al Baki Group and Muammar Qaddafi. Odinga's supporters, according to US envoy Jendayi Frazier, engaged in "ethnic cleansing" of the Christian Kikuyu opposition. Barack Obama has never condemned this ethnic cleansing; indirectly he actually supported it by helping to bring his cousin to power. In fact, Obama even admitted to speaking to Odinga by phone during the primary season.