Latest News
Connecticut, Minnesota, Vermont and Wisconsin hold primaries on Tuesday, with a Georgia holding a Republican primary runoff in the state's 14th Congressional District.
2020/08/11 05:00
Democrats' push to "defund the police" is backfiring as protests spread into elite neighborhoods and produce more violence in U.S. cities, attorney and U.S. Commission on Civil Rights member Peter Kirsanow argued on Monday.
2020/08/11 00:08
The FBI under Director Christopher Wray's leadership deceived lawmakers on the Senate Intelligence Committee during a 2018 briefing on the Russia investigation, Senate Judiciary Committee Chairman Lindsey Graham told "Hannity" Monday, citing a document he obtained from the Department of Justice.
2020/08/10 23:48
Joe Biden's presidential campaign is preparing to announce his running mate during the middle of this week after the presumptive Democratic nominee finished interviewing every finalist to run with him in November, the New York Times reported Monday.
2020/08/10 21:12
The United States is broaching the topic of human rights issues with China at the United Nations whenever it can, U.S. Ambassador to the U.N. Kelly Craft told "The Story" Monday night.
2020/08/10 20:53
Support the Movement
Buy The T-Shirt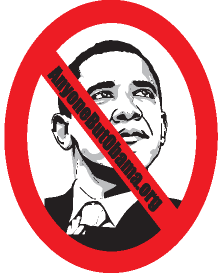 Order other designs on Cafe Press:
Your Ad Here
He will be soft on terrorism and meet with our most vicious, hate-filled and irrational enemies without any preconditions met, thus diminishing the stature and prestige of the oval office and increasing the stature and prestige of our enemies.
---
Barrack Obama plans on cutting back on military spending just as our most dangerous enemies are ramping up on same spending: "I will cut investments in missile defense systems and I will not weaponize space. I will slow our development of future combat systems; I will not develop nuclear weapons. "
Obama's view on terrorism is the same misguided one that allowed Al Qaeda to grow into Al Qaeda in the 1990's – that terrorism should be dealt with as if it is a form of organized crime and not as an act of international war. Obama and his campaign praised the recent controversial 5-4 Supreme Court decision applying habeas-corpus rules to terrorists, even those like Osama Bin Laden. The Obama campaign told ABC News that the Court decision was "no big deal," because though it may apply to Bin Laden, the U.S. would have "ample grounds to hold him." Obama's attitude toward the War on Terror unabashedly shows more sympathy for the rights and feelings of terrorists than the rights and feelings of American civilian victims of terror and their families. Here is an example of how Obama's view of habeas-corpus meshes with his world view on global terrorism: "What we know is that in previous attacks – for example the first attack against the World Trade Center, we were able to arrest those responsible, put them on trial. They are currently in U.S. prisons, incapacitated. And the fact that the administration has not tried to do that has created a situation where not only have we never actually put many of these folks on trial, but we have destroyed our credibility when it comes to rule of law all around the world, and given a huge boost to terrorist recruitment in countries that say, 'Look, this is how the United States treats Muslims."
Obama has chosen as one of his chief foreign policy advisors Senator Chuck Hagel (R-NE). In reference to Hagel and co-advisor Senator Jack Heed (D-RI), Obama said the following: "They're both experts on foreign policy; they reflect I think traditional bipartisan wisdom when it comes to foreign policy. Neither of them are ideologues but they try to get the facts right and make a determination about what's best for U.S. interests, and they're good guys." Let us examine what foreign policy expert Chuck Hagel has done on foreign policy issues most concerning to most Americans:
In August of 2006, Hagel was one of only 12 Senators to refuse to call upon the European Union to declare Hizbullah a terrorist organization. He was even criticized by Democratic organizations for his stance. In December of 2005, Hagel was one of only 27 Senators to refuse to sign a letter to President Bush urging him to pressure the Palestinian Authority to ban Hamas and other terrorist organization from participating in parliament. In June of 2004, Hagel refused to sign a letter urging President Bush to raise the issue of Iran's nuclear ambitions at an upcoming G-8 summit.
Obama, in his own words, views the Arab-Israeli conflict as an "open wound" and "open sore" that has a deleterious effect on "all of our foreign policy," according to Jeffery Goldberg of The Atlantic Monthly who conducted twin interviews with McCain and Obama. This characterization underscores Obama's belief that that there is some sort of parity between Israel and the Arabs and if only we can get both sides together, we can close this open sore; and furthermore, that all the other problems in the Middle East stem directly or indirectly from this "open sore." McCain on the other hand understands the ultimate threat of Islamo-facism and views both Israel and America as targets and victims of the constant assault perpetrated by Islamo-fascists. Says McCain: "I don't think the conflict is a sore. I think it is a national security challenge." Asked what would happen if the Israeli-Arab conflict were resolved, McCain responds, "We would still face the enormous threat of radical Islamic extremism."
Obama has consistently been weak on Iran and fails to give specifics on how he plans to stop Iran from developing a nuclear weapon. Says Barry Rubin, director of the Global Research in International Affairs, in regards to Obama' stance on the crisis with Iran, "He never mentions what he would do if the talks fail, and he doesn't talk about the need for the U.S. to show its strength." Furthermore, Obama was one of the few senators not to support the Kyl-Lieberman resolution which designated the Iranian Revolutionary Guard as a terrorist organization.
Obama has repeatedly called for the President of the United States to sit down and talk to Iranian dictator and Holocaust denier, Mahmud Ahmadinejad. Obama has placed America's standing on par with that of the most brutal dictatorships in the world, when he said in the primary contest against Hillary Clinton, "If we think that meeting with the president is a privilege that has to be earned, I think that reinforces the sense that we stand above the rest of the world at this point in time." Even Hillary Clinton had to refer to this outrageous statement as, "irresponsible and frankly naive."