Latest News
Lawmakers across the aisle Sunday described North Korea's announcement that it would halt nuclear tests and missile launches as essentially a publicity stunt.
2018/04/22 17:00
Senate Foreign Relations Committee Chairman Bob Corker on Sunday dismissed criticism about Republicans "ramming" Mike Pompeo's nomination as secretary of state through the chamber, saying Senate Democrats have blocked the "highly qualified" Pompeo from getting the post just to appease their anti-Trump base.
2018/04/22 15:15
President Trump on Sunday dismissed comments by NBC News' Chuck Todd suggesting that the United States is getting steamrolled in negotiations with North Korea over the rogue nation halting its nuclear weapons program, saying, "We haven't given up anything."
2018/04/22 10:20
French President Emmanuel Macron insisted Sunday that he has a solid relationship with President Trump, ahead of his Washington visit this week, but also appeared to caution the president about his aggressive stances on Iran, climate change and international trade, in an exclusive "Fox News Sunday" interview.
2018/04/22 08:44
A Texas appeals court last week struck down a state law that criminalized the sharing of sexually explicit photos and videos of an individual online without their consent, ruling the "revenge porn" measure a violation of the First Amendment.
2018/04/22 04:15
Support the Movement
Buy The T-Shirt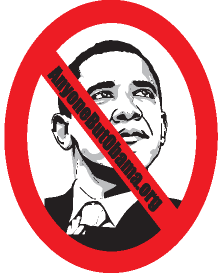 Order other designs on Cafe Press:
Your Ad Here
Create Your Own Chapter
---
While AnyoneButObama.org rejects the hatred and left-wing fanaticism of MoveOn.org, we admire their organizational tactics and seek to beat them at their own game. To that end, we are seeking to create chapters in your state and inviting you to be a leader of your own chapter!
Chapters can represent either college campuses or local communities (no greater than your immediate 2 mile radius). You will have the greatest impact on those you see most often and with whom you share similar experiences.
Chapter leaders will be required to purchase at least 200 T-shirts or bumper stickers of their choosing (at a bulk discount rate of $14 per T-shirt and $7 per sticker) and will be called upon to distribute or sell those T-shirts and/or bumper stickers as they see fit (with the only limitation being that prices for same T-shirts cannot exceed $24.95 per shirt and those of bumper stickers cannot exceed $10.95 per sticker). We will not monitor your activities. You are on your honor.
Chapter leaders will have their name and contact e-mail address posted on our site so that they can be more easily found and contacted by prospective members. Chapter leaders will be personally trained and educated in the personal and political history of Obama so to better articulate to undecided voters why they should vote for anyone but Obama.
Chapter leaders will also be given the privilege of one guest blog per week.
Any chapter leader who runs a business and who purchases more than 400 T-shirts or bumper stickers will be entitled to a free ad on our site for the purpose of promoting their business.
If interested in being a chapter leader, please e-mail us at chapters@anyonebutobama.org.
We thank you in advance for joining the movement that will save America!