Latest News
President Trump, at a fiery "Make America Great Again" campaign rally Wednesday night in Greenville, North Carolina, blasted three progressive congresswomen, Reps. Ilhan Omar of Minnesota, Rashida Tlaib of Michigan and Alexandria Ocasio-Cortez of New York, who he continues to spar with after an ongoing feud over comments he made against them that they deemed "racist."
2019/07/17 19:22
The names of the 20 Democratic presidential candidates who will take part in the second round of primary debates is now official. The Democratic National Committee and CNN, it's media partner for the consecutive nights of showdowns that will take place July 30-31 in Detroit, on Wednesday announced which candidates made the cut.
2019/07/17 18:44
The Trump administration is beefing up troop levels at the U.S.-Mexico border, with the new acting defense secretary, Richard Spencer, on Tuesday approving a Department of Homeland Security request for an additional 2,100. 
2019/07/17 18:19
The House of Representatives on Wednesday voted to set aside a resolution by Rep. Al Green, D-Texas, to introduce article of impeachment against President Trump – the third time the Houston-area lawmaker has taken a shot at impeaching the president, but the first since Democrats regained control of the House.
2019/07/17 17:50
Add "communist" to the list of terms that might be racist, according to Alexandria Ocasio-Cortez.
2019/07/17 17:46
Support the Movement
Buy The T-Shirt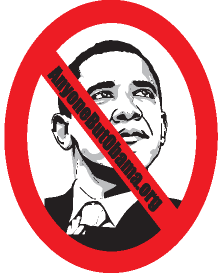 Order other designs on Cafe Press:
Your Ad Here
Create Your Own Chapter
---
While AnyoneButObama.org rejects the hatred and left-wing fanaticism of MoveOn.org, we admire their organizational tactics and seek to beat them at their own game. To that end, we are seeking to create chapters in your state and inviting you to be a leader of your own chapter!
Chapters can represent either college campuses or local communities (no greater than your immediate 2 mile radius). You will have the greatest impact on those you see most often and with whom you share similar experiences.
Chapter leaders will be required to purchase at least 200 T-shirts or bumper stickers of their choosing (at a bulk discount rate of $14 per T-shirt and $7 per sticker) and will be called upon to distribute or sell those T-shirts and/or bumper stickers as they see fit (with the only limitation being that prices for same T-shirts cannot exceed $24.95 per shirt and those of bumper stickers cannot exceed $10.95 per sticker). We will not monitor your activities. You are on your honor.
Chapter leaders will have their name and contact e-mail address posted on our site so that they can be more easily found and contacted by prospective members. Chapter leaders will be personally trained and educated in the personal and political history of Obama so to better articulate to undecided voters why they should vote for anyone but Obama.
Chapter leaders will also be given the privilege of one guest blog per week.
Any chapter leader who runs a business and who purchases more than 400 T-shirts or bumper stickers will be entitled to a free ad on our site for the purpose of promoting their business.
If interested in being a chapter leader, please e-mail us at chapters@anyonebutobama.org.
We thank you in advance for joining the movement that will save America!