Latest News
The Trump administration will propose merging the Labor Department with the Education Department as part of a larger effort to reorganize the federal government, The Wall Street Journal reported late Wednesday.
2018/06/20 22:45
The Department of Health and Human Services backed away late Wednesday from an official's claim that more than 2,000 immigrant children separated from their parents at the U.S.-Mexico border would not be reunited with their families right away despite President Trump's executive order aimed at keeping families together.
2018/06/20 21:30
Federal authorities have subpoenaed the publisher of the National Enquirer for records related to its $150,000 payment to a former Playboy model for the rights to her story alleging an affair with Donald Trump, according to people familiar with the matter.
2018/06/20 20:45
Democrats expressed concerns Wednesday about President Trump's executive order, which will allow parents who have crossed the U.S. border illegally to remain with their children.
2018/06/20 20:45
Republican lawmakers fighting to maintain their majorities in Congress after November's midterms are scrambling for a solution to a problem they see as a political loser: existing laws that allow border crossing children to be separated from their parents.
2018/06/20 20:30
Support the Movement
Buy The T-Shirt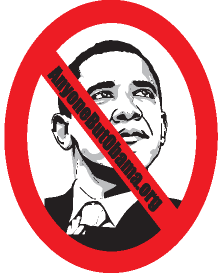 Order other designs on Cafe Press:
Your Ad Here
Create Your Own Chapter
---
While AnyoneButObama.org rejects the hatred and left-wing fanaticism of MoveOn.org, we admire their organizational tactics and seek to beat them at their own game. To that end, we are seeking to create chapters in your state and inviting you to be a leader of your own chapter!
Chapters can represent either college campuses or local communities (no greater than your immediate 2 mile radius). You will have the greatest impact on those you see most often and with whom you share similar experiences.
Chapter leaders will be required to purchase at least 200 T-shirts or bumper stickers of their choosing (at a bulk discount rate of $14 per T-shirt and $7 per sticker) and will be called upon to distribute or sell those T-shirts and/or bumper stickers as they see fit (with the only limitation being that prices for same T-shirts cannot exceed $24.95 per shirt and those of bumper stickers cannot exceed $10.95 per sticker). We will not monitor your activities. You are on your honor.
Chapter leaders will have their name and contact e-mail address posted on our site so that they can be more easily found and contacted by prospective members. Chapter leaders will be personally trained and educated in the personal and political history of Obama so to better articulate to undecided voters why they should vote for anyone but Obama.
Chapter leaders will also be given the privilege of one guest blog per week.
Any chapter leader who runs a business and who purchases more than 400 T-shirts or bumper stickers will be entitled to a free ad on our site for the purpose of promoting their business.
If interested in being a chapter leader, please e-mail us at chapters@anyonebutobama.org.
We thank you in advance for joining the movement that will save America!