Latest News
"I abandon the chair!"
2019/07/17 20:48
President Trump, at a fiery "Make America Great Again" campaign rally Wednesday night in Greenville, North Carolina, blasted four progressive congresswomen, Reps. Ilhan Omar of Minnesota, Rashida Tlaib of Michigan, Alexandria Ocasio-Cortez of New York and Ayanna Pressley of Massachusettes, who he continues to spar with after an ongoing feud over comments he made against them that they deemed "racist."
2019/07/17 19:22
The names of the 20 Democratic presidential candidates who will take part in the second round of primary debates is now official. The Democratic National Committee and CNN, it's media partner for the consecutive nights of showdowns that will take place July 30-31 in Detroit, on Wednesday announced which candidates made the cut.
2019/07/17 18:44
The Trump administration is beefing up troop levels at the U.S.-Mexico border, with the new acting defense secretary, Richard Spencer, on Tuesday approving a Department of Homeland Security request for an additional 2,100. 
2019/07/17 18:19
The House of Representatives on Wednesday voted to set aside a resolution by Rep. Al Green, D-Texas, to introduce article of impeachment against President Trump – the third time the Houston-area lawmaker has taken a shot at impeaching the president, but the first since Democrats regained control of the House.
2019/07/17 17:50
Support the Movement
Buy The T-Shirt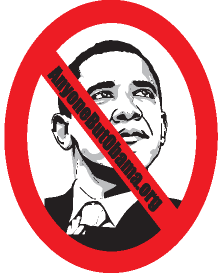 Order other designs on Cafe Press:
Your Ad Here
He has next to no experience (and whatever experience he does have is that of a left-wing extremist incapable of working across the aisle).
---
Obama has been a calculating political opportunist from the very beginning.  Just prior to the Democratic primary for the Illinois State Senate seat he ran for in 1996, Obama contested the validity of the voting petition signatures of all of his Democratic opponents on the smallest of technicalities. As a result they were all denied places on the ballot, and Obama ran unopposed and ultimately won the seat.
Obama sponsored 129 bills since his arrival in the US Senate, but only 9 of them came out of committee and only one of them became law – a testament to how out of touch he is with mainstream law and politics. The following is just a short list of examples of Obama's radical voting record:
- Obama voted to require the acquisition of a FISA warrant before wiretapping Americans ABROAD (even if they are suspected of meeting with terrorists at the time).
- Obama supported habeas-corpus rights for captured terrorists in Guantanamo.
- Obama voted to force the CIA to publish regular reports on its interrogation methods, which would allow our enemies to know what they are and train against them.
- Obama voted against making English the official language of the U.S. government.
- Obama voted to support the right of illegal aliens to participate in social security.
- Obama voted against repealing the anachronistic Alternative Minimum Tax, which has been an unnecessary burden on the upper middle class of this country.
- Obama voted against extending the cut on capital gains taxes.
- Obama voted against reducing federal spending by a proposed 40 billion dollars.
- Obama voted against prohibiting partial birth abortion unless necessary to save the life of the mother.
- Obama was the only one to vote against a measure that would not allow offer of "good time" for sex offenders sentenced to county jail
- Obama voted against requiring school boards to install software on computers blocking sexually explicit material.
- Obama voted in favor of allowing unions to do away with secret ballot voting and to make its members' votes public record.
Barrack Obama has only been in the US Senate for two to three years, and he has spent more than one of those years campaigning for the Presidency. If elected, Obama would become the least experienced President in U.S. history at a time when America is besieged by a variety of serious problems, all of which require experience and personal testing to deal with effectively. Obama has absolutely no military experience, either as a warrior/commander or as a military strategist/consultant. Obama seeks to be the highest executive manager in the land without having any prior executive experience whatsoever. He has never managed a business, never managed a municipality and never managed a state.
Contrary to the appeal he is trying to erect for himself, Obama is anything but a uniter who crosses party lines. In the one year in which Obama served exclusively as a US senator, he built the most liberal record in the senate, according to the National Journal, and never ONCE crossed party line to work with Republicans on controversial or contentious issues.
As an Illinois State Senator, Obama had the audacity to vote against the Induced Infant Liability Act, which would have protected babies if they were to either survive an attempted abortion or be delivered alive. A similar bill passed the United States Senate unanimously! Even the Abortion Rights Action League did not oppose said law. In essence, Barack Obama has no moral or legal reservation regarding the murder of a newborn baby. That this man seeks to be President of the United States is shocking!
As Ken Blackwell, and African-American columnist for the New York Sun wrote in his April, 2008 editorial on Obama: "Over the summer, Mr. Obama talked about invading Pakistan, a nation armed with nuclear weapons. He talked about meeting without preconditions with Mahmoud Ahmadinejad, who vows to destroy Israel and create another Holocaust. He talked about North Korean Kim Jong Il, who is murdering and starving his people, but emphasized that the nuclear option was off the table against terrorists – something no president has ever taken off the table since we created nuclear weapons in the 1940s. Even Democrats who have worked in national security condemned all of those remarks. Mr. Obama is a foreign-policy novice who would put our national security at risk."