Latest News
A Republican who's challenging U.S. Rep. Ilhan Omar, D-Minn., in November decried "silence" on a recent spate of deadly gun violence in Chicago amid the media focus on the death of George Floyd in Minneapolis.
2020/06/06 23:58
Former President George W. Bush and Sen. Mitt Romney, R-Utah, are reportedly not expected to support the reelection of President Trump -- two high profile GOP figures who are believed to be avoiding backing the Republican president in November.
2020/06/06 23:13
Minneapolis' Democratic Mayor Jacob Frey was booed out of a protest on Saturday after reportedly refusing to back far-left calls to defund the Minneapolis Police Department -- a week after riots and looting tore through the city.
2020/06/06 20:34
After more than a week of George Floyd protests, thousands of New Yorkers gathered Saturday for another day of demonstrations against police brutality and racial equality in the U.S.
2020/06/06 19:52
New York Gov. Andrew Cuomo declared Saturday that New York "crushed" the curve and "did the impossible" as the state begins to re-open after the peak of the coronavirus pandemic appears to have passed -- even as he faces criticism over his handling of the virus.
2020/06/06 19:32
Support the Movement
Buy The T-Shirt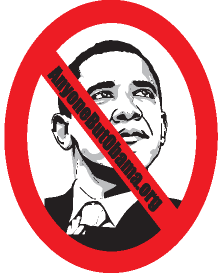 Order other designs on Cafe Press:
Your Ad Here
He denigrates the American flag and American nationalism.
---
As evidenced by our first YouTube video on our homepage, when most of the Democratic presidential candidates were on the same stage at the beginning of a certain primary season campaign event, Barack Obama was the only candidate not to put his hand over his heart during the rendition of the Star Spangled Banner. Instead his hands were folded over his crotch.
Obama voted NO on recommending a Constitutional ban on desecrating the American flag
Obama voted against making English the official language of the U.S. government
In a television interview on October 4, 2007, Mr. Obama was asked why he wasn't wearing an American flag on his suit. By a reporter for KCRG-TV in Cedar Rapids, Iowa. Obama replied, "The truth is that right after 9/11 I had a pin," Mr. Obama replied. "Shortly after 9/11, particularly because as we're talking about the Iraq war, that became a substitute for, I think, true patriotism, which is speaking out on issues that are of importance to our national security.
"I decided I won't wear that pin on my chest," he added.