Latest News
Los Angeles County District Attorney George Gascon issued a new directive this week affecting how immigrants will be prosecuted.
2022/12/06 20:29
The ATF is set to destroy firearms associated with the Obama-era Operation Fast and Furious scandal, sparking a rebuke from GOP Rep. Jim Jordan of Ohio.
2022/12/06 20:25
Republican are ready to oppose Democratic efforts to include progressive priorities, including abortion and racial equity, within the must-pass defense bill.
2022/12/06 17:06
The Dec. 16 deadline for Congress to pass a new spending agreement to avoid a government shutdown is quickly approaching, but lawmakers are still at a "pretty significant impasse."
2022/12/06 17:05
A controversial surveillance program run by the U.S. Postal Service came under fire Tuesday as Republicans pushed for a vote to give Congress more information.
2022/12/06 16:21
Support the Movement
Buy The T-Shirt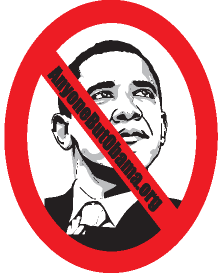 Order other designs on Cafe Press:
Your Ad Here
He denigrates the American flag and American nationalism.
---
As evidenced by our first YouTube video on our homepage, when most of the Democratic presidential candidates were on the same stage at the beginning of a certain primary season campaign event, Barack Obama was the only candidate not to put his hand over his heart during the rendition of the Star Spangled Banner. Instead his hands were folded over his crotch.
Obama voted NO on recommending a Constitutional ban on desecrating the American flag
Obama voted against making English the official language of the U.S. government
In a television interview on October 4, 2007, Mr. Obama was asked why he wasn't wearing an American flag on his suit. By a reporter for KCRG-TV in Cedar Rapids, Iowa. Obama replied, "The truth is that right after 9/11 I had a pin," Mr. Obama replied. "Shortly after 9/11, particularly because as we're talking about the Iraq war, that became a substitute for, I think, true patriotism, which is speaking out on issues that are of importance to our national security.
"I decided I won't wear that pin on my chest," he added.