Latest News
A Republican running for a Maryland legislative seat raffled off an AR-15 assault weapon at a Saturday night fundraiser celebrating the Second Amendment — only days after the same type of weapon was used to kill 17 people at a Florida high school.
2018/02/18 20:15
President Donald Trump has boasted repeatedly about his big and powerful "nuclear button" — but, a new report says, it almost got away from him last year in China.
2018/02/18 19:45
Congress' ability to stop gun violence -- as America has demand -- is far more complex than act laws, amid such questions as would more restriction really work and what to voters come Election Day truly want.
2018/02/18 18:30
Sen. Bob Casey, R-Pa., believes it would be a mistake for special counsel Robert Mueller to release his final report on Russian interference in the 2016 election near the fall midterm elections.
2018/02/18 17:52
Former first lady Rosalynn Carter is recovering from surgery at Emory University Hospital.
2018/02/18 14:15
Support the Movement
Buy The T-Shirt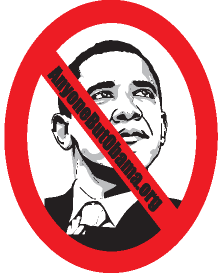 Order other designs on Cafe Press:
Your Ad Here
He denigrates the American flag and American nationalism.
---
As evidenced by our first YouTube video on our homepage, when most of the Democratic presidential candidates were on the same stage at the beginning of a certain primary season campaign event, Barack Obama was the only candidate not to put his hand over his heart during the rendition of the Star Spangled Banner. Instead his hands were folded over his crotch.
Obama voted NO on recommending a Constitutional ban on desecrating the American flag
Obama voted against making English the official language of the U.S. government
In a television interview on October 4, 2007, Mr. Obama was asked why he wasn't wearing an American flag on his suit. By a reporter for KCRG-TV in Cedar Rapids, Iowa. Obama replied, "The truth is that right after 9/11 I had a pin," Mr. Obama replied. "Shortly after 9/11, particularly because as we're talking about the Iraq war, that became a substitute for, I think, true patriotism, which is speaking out on issues that are of importance to our national security.
"I decided I won't wear that pin on my chest," he added.