Latest News
One of President Trump's attorneys told Fox News late Saturday Attorney General William Barr will release Special Counsel Robert Mueller's primary conclusions in his concluded Russia investigation at 12 p.m. ET on Sunday, in a letter expected to be sent immediately to lawmakers and Trump's attorneys.
2019/03/23 17:54
Jokes and memes were abundant on social media after the surprise announcement that Special Counsel Robert Mueller submitted the long-awaited report on suspected Russian interference in the 2016 presidential election.
2019/03/23 11:19
For Washington insiders, the waiting game isn't easy. Speculation about the hotly anticipated report's contents has been rampant. Still, in a show of confidence, President Trump waved and flashed two thumbs up to supporters as he returned to his Florida Mar-a-Lago estate on Saturday. 
2019/03/23 10:50
2019/03/23 10:19
Conservative author Jerome Corsi declared he's "vindicated" after the Special Counsel Robert Mueller ended the Russia investigation and recommends no new indictments.
2019/03/23 09:46
Support the Movement
Buy The T-Shirt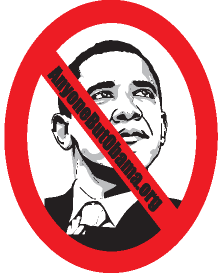 Order other designs on Cafe Press:
Your Ad Here
He denigrates the American flag and American nationalism.
---
As evidenced by our first YouTube video on our homepage, when most of the Democratic presidential candidates were on the same stage at the beginning of a certain primary season campaign event, Barack Obama was the only candidate not to put his hand over his heart during the rendition of the Star Spangled Banner. Instead his hands were folded over his crotch.
Obama voted NO on recommending a Constitutional ban on desecrating the American flag
Obama voted against making English the official language of the U.S. government
In a television interview on October 4, 2007, Mr. Obama was asked why he wasn't wearing an American flag on his suit. By a reporter for KCRG-TV in Cedar Rapids, Iowa. Obama replied, "The truth is that right after 9/11 I had a pin," Mr. Obama replied. "Shortly after 9/11, particularly because as we're talking about the Iraq war, that became a substitute for, I think, true patriotism, which is speaking out on issues that are of importance to our national security.
"I decided I won't wear that pin on my chest," he added.