Latest News
Mark McCloskey, a St. Louis attorney who, along with his wife, armed himself and confronted Black Lives Matter protesters outside their home last summer, said he is considering a run for a U.S. Senate seat.
2021/04/21 02:12
Former President Bill Clinton and former Secretary of State Hillary Clinton each reacted to Tuesday's verdict in the Derek Chauvin murder trial.
2021/04/20 23:50
Author and conservative analyst Candace Owens reacted to the guilty verdict lodged against former Minneapolis Police Officer Derek Chauvin in the death of George Floyd as a symptom of a perpetual media and Democrat Party narrative absent many facts about the case.
2021/04/20 22:58
State Assemblyman Ron Kim, a leading Democratic critic of Gov. Andrew Cuomo's handling of the coronavirus crisis in New York nursing homes, is lauding a second criminal probe into the governor's alleged misconduct following allegations that he used taxpayer resources to write and promote his book on pandemic leadership.
2021/04/20 21:56
In an exclusive interview with Fox News, Donna Zaccaro says, Walter Mondale, who passed at age 93 Monday, shall be remembered "as a champion of civil rights and equality, and just a decent, honorable, wonderful man." 
2021/04/20 21:47
Support the Movement
Buy The T-Shirt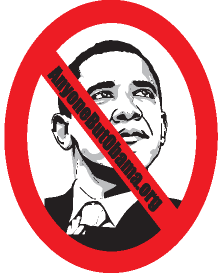 Order other designs on Cafe Press:
Your Ad Here
He denigrates the American flag and American nationalism.
---
As evidenced by our first YouTube video on our homepage, when most of the Democratic presidential candidates were on the same stage at the beginning of a certain primary season campaign event, Barack Obama was the only candidate not to put his hand over his heart during the rendition of the Star Spangled Banner. Instead his hands were folded over his crotch.
Obama voted NO on recommending a Constitutional ban on desecrating the American flag
Obama voted against making English the official language of the U.S. government
In a television interview on October 4, 2007, Mr. Obama was asked why he wasn't wearing an American flag on his suit. By a reporter for KCRG-TV in Cedar Rapids, Iowa. Obama replied, "The truth is that right after 9/11 I had a pin," Mr. Obama replied. "Shortly after 9/11, particularly because as we're talking about the Iraq war, that became a substitute for, I think, true patriotism, which is speaking out on issues that are of importance to our national security.
"I decided I won't wear that pin on my chest," he added.