Latest News
Dr. Anthony Fauci lamented that Americans often value their liberty over forced masking policies, saying the issue was "inexplicable" during a talk Tuesday.
2022/08/10 15:34
El Salvador President Nayib Bukele questioned what the U.S. government would say if his nation's police raided the home of the main possible contender in its 2024 presidential election.
2022/08/10 15:28
New York City Mayor Eric Adams says that the Big Apple needs help with the surge in migrants coming to the city, and is urging the federal government to do more.
2022/08/10 14:44
Sen. Michael Bennet reportedly purchased a 24-hour fishing license for a new campaign ad depicting the wealthy businessman as an outdoorsman ahead of the midterm elections.
2022/08/10 14:27
President Joe Biden on Wednesday signed the bipartisan PACT Act to deliver more timely benefits and services to veterans exposed to toxic burn pits.
2022/08/10 14:18
Support the Movement
Buy The T-Shirt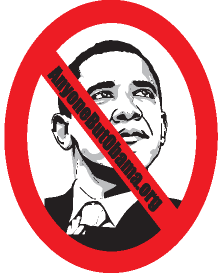 Order other designs on Cafe Press:
Your Ad Here
He denigrates the American flag and American nationalism.
---
As evidenced by our first YouTube video on our homepage, when most of the Democratic presidential candidates were on the same stage at the beginning of a certain primary season campaign event, Barack Obama was the only candidate not to put his hand over his heart during the rendition of the Star Spangled Banner. Instead his hands were folded over his crotch.
Obama voted NO on recommending a Constitutional ban on desecrating the American flag
Obama voted against making English the official language of the U.S. government
In a television interview on October 4, 2007, Mr. Obama was asked why he wasn't wearing an American flag on his suit. By a reporter for KCRG-TV in Cedar Rapids, Iowa. Obama replied, "The truth is that right after 9/11 I had a pin," Mr. Obama replied. "Shortly after 9/11, particularly because as we're talking about the Iraq war, that became a substitute for, I think, true patriotism, which is speaking out on issues that are of importance to our national security.
"I decided I won't wear that pin on my chest," he added.