Latest News
The House Judiciary GOP Twitter handle on Sunday poked fun at journalists who reported on an apparent bagel run for Hunter Biden while the presidential motorcade waited for his order to be completed.
2021/01/25 02:27
Sen. Marco Rubio, R-Fla called the upcoming trial of Trump 'stupid' and harmful for the US
2021/01/25 00:00
White House Press Secretary Jen Psaki on Sunday answered a list of questions Twitter users had posted online. The questions ranged from important policy issues related to the ongoing COVID-19 pandemic, as well as the pressing matter of whether it was true the president kept a giant freezer full of ice cream.
2021/01/24 22:04
A recall campaign to oust California Gov. Gavin Newsom is nearing its required threshold to qualify for a statewide ballot.
2021/01/24 21:12
Former White House press secretary Sarah Huckabee Sanders is expected to announce her candidacy for governor of Arkansas in the 2022 elections on Monday, Fox News has learned. 
2021/01/24 21:02
Support the Movement
Buy The T-Shirt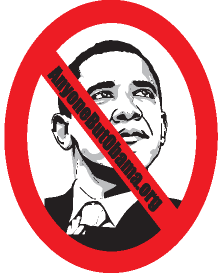 Order other designs on Cafe Press:
Your Ad Here
He denigrates the American flag and American nationalism.
---
As evidenced by our first YouTube video on our homepage, when most of the Democratic presidential candidates were on the same stage at the beginning of a certain primary season campaign event, Barack Obama was the only candidate not to put his hand over his heart during the rendition of the Star Spangled Banner. Instead his hands were folded over his crotch.
Obama voted NO on recommending a Constitutional ban on desecrating the American flag
Obama voted against making English the official language of the U.S. government
In a television interview on October 4, 2007, Mr. Obama was asked why he wasn't wearing an American flag on his suit. By a reporter for KCRG-TV in Cedar Rapids, Iowa. Obama replied, "The truth is that right after 9/11 I had a pin," Mr. Obama replied. "Shortly after 9/11, particularly because as we're talking about the Iraq war, that became a substitute for, I think, true patriotism, which is speaking out on issues that are of importance to our national security.
"I decided I won't wear that pin on my chest," he added.