Latest News
Stitt accused the president of pandering to his "radical base" by attacking the new abortion bill instead of dealing with the mounting crises the Biden administration faces.
2022/05/20 15:48
Former Clinton campaign manager Robby Mook testified Friday that campaign officials "did not trust" the FBI in 2016
2022/05/20 15:11
San Francisco Archbishop Salvatore Cordileone announced Friday that House Speaker Nancy Pelosi is barred from receiving Holy Communion due to her pro-abortion stance -- marking an escalation in a decades-long tension between the Roman Catholic Church and liberal Democratic politicians on abortion.
2022/05/20 15:10
Swiss billionaire Hansjorg Wyss is a major funder of a dark money nonprofit that has pushed millions to the Pelosi-aligned House Majority Forward.
2022/05/20 14:29
Hillary Clinton signed off on leaking allegations of a covert communications channel between the Trump Organization and Russia's Alfa Bank to the media.
2022/05/20 13:44
Support the Movement
Buy The T-Shirt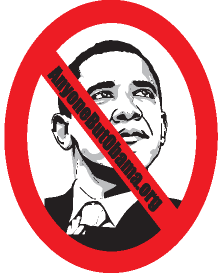 Order other designs on Cafe Press:
Your Ad Here
He denigrates the American flag and American nationalism.
---
As evidenced by our first YouTube video on our homepage, when most of the Democratic presidential candidates were on the same stage at the beginning of a certain primary season campaign event, Barack Obama was the only candidate not to put his hand over his heart during the rendition of the Star Spangled Banner. Instead his hands were folded over his crotch.
Obama voted NO on recommending a Constitutional ban on desecrating the American flag
Obama voted against making English the official language of the U.S. government
In a television interview on October 4, 2007, Mr. Obama was asked why he wasn't wearing an American flag on his suit. By a reporter for KCRG-TV in Cedar Rapids, Iowa. Obama replied, "The truth is that right after 9/11 I had a pin," Mr. Obama replied. "Shortly after 9/11, particularly because as we're talking about the Iraq war, that became a substitute for, I think, true patriotism, which is speaking out on issues that are of importance to our national security.
"I decided I won't wear that pin on my chest," he added.