Latest News
Just days after a shakeup in the New Hampshire leadership of Sen. Bernie Sanders' 2020 presidential campaign comes word that the candidate's Iowa political director has departed as well.
2019/09/18 23:14
A former campaign staffer for Barack Obama announced Wednesday that he will mount a second primary challenge to long-serving New York Democratic congresswoman Carolyn Maloney in 2020.
2019/09/18 21:24
The U.S. military has spent more than $184,000 at President Trump's luxury resort in Scotland over the past two years, according to documents the Pentagon provided to the House Oversight Committee.
2019/09/18 20:41
A former official in the George W. Bush administration has penned a Washington Post op-ed urging his "fellow Latinos" to vote President Trump out of office, saying the Republican Party has "have lost control of the monster they helped create."
2019/09/18 20:31
Rep. Alexandria Ocasio-Cortez, D-N.Y., will have to get through a primary challenger if she wants to hold on to her seat in 2020.
2019/09/18 20:25
Support the Movement
Buy The T-Shirt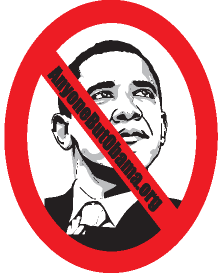 Order other designs on Cafe Press:
Your Ad Here
He denigrates the American flag and American nationalism.
---
As evidenced by our first YouTube video on our homepage, when most of the Democratic presidential candidates were on the same stage at the beginning of a certain primary season campaign event, Barack Obama was the only candidate not to put his hand over his heart during the rendition of the Star Spangled Banner. Instead his hands were folded over his crotch.
Obama voted NO on recommending a Constitutional ban on desecrating the American flag
Obama voted against making English the official language of the U.S. government
In a television interview on October 4, 2007, Mr. Obama was asked why he wasn't wearing an American flag on his suit. By a reporter for KCRG-TV in Cedar Rapids, Iowa. Obama replied, "The truth is that right after 9/11 I had a pin," Mr. Obama replied. "Shortly after 9/11, particularly because as we're talking about the Iraq war, that became a substitute for, I think, true patriotism, which is speaking out on issues that are of importance to our national security.
"I decided I won't wear that pin on my chest," he added.