Latest News
Calling opioids coming into the U.S. from China and Mexico "almost a form of warfare," President Trump on Thursday urged Attorney General Jeff Sessions to investigate foreign sources of fentanyl that he said are "killing our people."
2018/08/16 16:45
Lara Trump tore into her old friend Omarosa Manigault Newman on Thursday after she released a tape of the president's daughter-in-law offering her a job on the 2020 campaign shortly after being fired from the White House.
2018/08/16 15:01
President Trump abruptly revoked the security clearance of former CIA director John Brennan this week, and he threatened to strip a bevy of other former national security officials of theirs as well.
2018/08/16 13:49
President Trump's revocation of former CIA Director John Brennan's security clearance has set off a debate among lawyers: does Brennan have the right to appeal the decision?
2018/08/16 13:41
Rep. Jim Clyburn, the third-ranking House Democrat, confirmed his intention to run for speaker of the House if his party takes the chamber in November and Nancy Pelosi struggles for support.
2018/08/16 12:02
Support the Movement
Buy The T-Shirt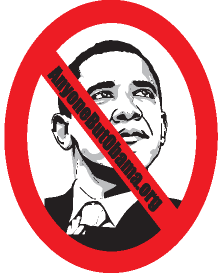 Order other designs on Cafe Press:
Your Ad Here
He denigrates the American flag and American nationalism.
---
As evidenced by our first YouTube video on our homepage, when most of the Democratic presidential candidates were on the same stage at the beginning of a certain primary season campaign event, Barack Obama was the only candidate not to put his hand over his heart during the rendition of the Star Spangled Banner. Instead his hands were folded over his crotch.
Obama voted NO on recommending a Constitutional ban on desecrating the American flag
Obama voted against making English the official language of the U.S. government
In a television interview on October 4, 2007, Mr. Obama was asked why he wasn't wearing an American flag on his suit. By a reporter for KCRG-TV in Cedar Rapids, Iowa. Obama replied, "The truth is that right after 9/11 I had a pin," Mr. Obama replied. "Shortly after 9/11, particularly because as we're talking about the Iraq war, that became a substitute for, I think, true patriotism, which is speaking out on issues that are of importance to our national security.
"I decided I won't wear that pin on my chest," he added.