Latest News
Russian President Vladimir Putin called President Trump on Sunday to thank him for providing intelligence that helped thwart a planned terror attack in St. Petersburg, the White House has confirmed.
2017/12/17 12:32
President Trump's legal counsel Ty Cobb says the president is not going to fire special counsel Robert Mueller, in response to a "rumor" that Trump will dismiss Mueller this week.
2017/12/17 11:39
Newly-elected Democratic Sen. Doug Jones gave qualified support Sunday to liberal-backed issues like continued protections young illegal immigrants and not using taxpayer money for a U.S.-Mexico border wall but suggested he wants to wait until being sworn in next month before taking on such "complicated" issues.
2017/12/17 10:54
Treasury Secretary Steve Mnuchin predicted Sunday that the GOP-led Congress will this week pass its sweeping tax-reform bill, calling the plan "terrific" and its passage a "historic moment" for the country.
2017/12/17 09:24
Count Jane Fonda as the latest liberal Hollywood celebrity to donate big bucks in an effort to oust U.S. Rep. Darrell Issa in next year's midterm elections.
2017/12/17 06:30
Support the Movement
Buy The T-Shirt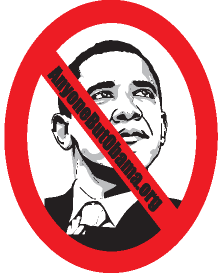 Order other designs on Cafe Press:
Your Ad Here
He denigrates the American flag and American nationalism.
---
As evidenced by our first YouTube video on our homepage, when most of the Democratic presidential candidates were on the same stage at the beginning of a certain primary season campaign event, Barack Obama was the only candidate not to put his hand over his heart during the rendition of the Star Spangled Banner. Instead his hands were folded over his crotch.
Obama voted NO on recommending a Constitutional ban on desecrating the American flag
Obama voted against making English the official language of the U.S. government
In a television interview on October 4, 2007, Mr. Obama was asked why he wasn't wearing an American flag on his suit. By a reporter for KCRG-TV in Cedar Rapids, Iowa. Obama replied, "The truth is that right after 9/11 I had a pin," Mr. Obama replied. "Shortly after 9/11, particularly because as we're talking about the Iraq war, that became a substitute for, I think, true patriotism, which is speaking out on issues that are of importance to our national security.
"I decided I won't wear that pin on my chest," he added.