Latest News
As his administration is working to organize its response to the coronavirus threat in the United States, President Trump slammed Democrats overnight for allegedly "wasting time" going after him. 
2020/02/28 07:47
An undocumented immigrant from El Salvador was arrested in Maryland earlier this month on suspicion of raping an 11-year-old girl. U.S. Immigration and Customs Enforcement (ICE) Enforcement immediately issued a detainer request with Montgomery County authorities to take him into custody.
2020/02/28 07:21
Former Detroit Mayor Kwame Kilpatrick is currently serving a 28-year prison sentence following a 2013 conviction on a list of corruption charges. But now his supporters hope President Trump will grant Kilpatrick clemency.
2020/02/28 06:15
Mike Bloomberg doesn't want a Naked Cowboy in every city —  just as the Naked Cowboy doesn't want Bloomberg in the White House.
2020/02/28 05:04
We've not detected fear, per se, on Capitol Hill amid the coronavirus outbreak. But lawmakers know coronavirus isn't something they can fully control. They can only respond – and hope they respond in the best way possible with money and resources.
2020/02/28 04:37
Support the Movement
Buy The T-Shirt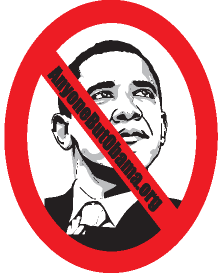 Order other designs on Cafe Press:
Your Ad Here
He denigrates the American flag and American nationalism.
---
As evidenced by our first YouTube video on our homepage, when most of the Democratic presidential candidates were on the same stage at the beginning of a certain primary season campaign event, Barack Obama was the only candidate not to put his hand over his heart during the rendition of the Star Spangled Banner. Instead his hands were folded over his crotch.
Obama voted NO on recommending a Constitutional ban on desecrating the American flag
Obama voted against making English the official language of the U.S. government
In a television interview on October 4, 2007, Mr. Obama was asked why he wasn't wearing an American flag on his suit. By a reporter for KCRG-TV in Cedar Rapids, Iowa. Obama replied, "The truth is that right after 9/11 I had a pin," Mr. Obama replied. "Shortly after 9/11, particularly because as we're talking about the Iraq war, that became a substitute for, I think, true patriotism, which is speaking out on issues that are of importance to our national security.
"I decided I won't wear that pin on my chest," he added.