Latest News
Corey Lewandowski on Tuesday played down recent reports that he got into a physical altercation with White House chief of staff John F. Kelly last winter. 
2018/10/23 23:43
A fire alarm sounded at the beginning of Georgia's gubernatorial debate Tuesday evening, serving to punctuate an already-awkward exhortation by Libertarian candidate Ted Metz that government employees put out of work by his prospective plans should "get another job."
2018/10/23 21:04
President Trump turned to an unlikely source Tuesday evening to offer support for his hardline immigration policies: his predecessor, Barack Obama.
2018/10/23 20:28
Ed Pawlowski, the former mayor of Allentown, Pennsylvania, was sentenced Tuesday to 15 years in federal prison for rigging city contracts in order to raise cash for his campaigns for higher office.
2018/10/23 20:18
Political forecaster Nate Silver reported Tuesday that the chances of Republicans maintaining control of the House of Representatives are narrowing.
2018/10/23 20:17
Support the Movement
Buy The T-Shirt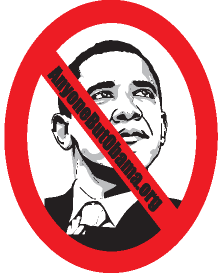 Order other designs on Cafe Press:
Your Ad Here
He denigrates the American flag and American nationalism.
---
As evidenced by our first YouTube video on our homepage, when most of the Democratic presidential candidates were on the same stage at the beginning of a certain primary season campaign event, Barack Obama was the only candidate not to put his hand over his heart during the rendition of the Star Spangled Banner. Instead his hands were folded over his crotch.
Obama voted NO on recommending a Constitutional ban on desecrating the American flag
Obama voted against making English the official language of the U.S. government
In a television interview on October 4, 2007, Mr. Obama was asked why he wasn't wearing an American flag on his suit. By a reporter for KCRG-TV in Cedar Rapids, Iowa. Obama replied, "The truth is that right after 9/11 I had a pin," Mr. Obama replied. "Shortly after 9/11, particularly because as we're talking about the Iraq war, that became a substitute for, I think, true patriotism, which is speaking out on issues that are of importance to our national security.
"I decided I won't wear that pin on my chest," he added.