Support the Movement
Buy The T-Shirt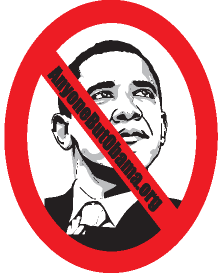 Order other designs on Cafe Press:
Your Ad Here
He has been a member of a church affiliated with the racist Black Liberation Theology movement for twenty years.
---
The Obamas, until recently, had been active members in the Trinity United Church of Christ of Chicago for about 20 years. The "About Us" section of Trinity United website underscores the racial tone and tenor of the church and its purpose: "We are a congregation which is Unashamedly Black and Unapologetically Christian . . .Our roots in the Black religious experience and tradition are deep, lasting and permanent. We are an African people, and remain true to our native land . . .We constantly affirm our trust in God through cultural expression of a Black worship service and ministries which address the Black Community." For new attendees, the church offers a "Black and Christian New Member Class," clearly implying that one cannot be a member of this church if one is not black.
The Trinity United Church of Chicago is a proud member-church of the Black Liberation Theology movement. Much like the Holy Roman Empire was neither Holy nor Roman nor an Empire, Black Liberation Theology is neither a theology, nor about Liberation, nor strictly about black people. Black Liberation Theology is a subset of the global Liberation theology movement which was founded in Nicaragua and spawned vicious socialist dictators and rebels such as Che' Guevara. Black Liberation Theology is predicated on the notion of saving dark-skinned people through the gradual extermination of light-skinned people and their beliefs. The father of the Black Liberation Theology movement is James H. Cone and the bible of the Black Liberation Theology Movement is Cone's Black Theology and Black Power. The following is a quote from same book: "Black Theology refuses to accept a God who is not identified totally with the Black community. If God is not for us, and against white people, then he is a murderer and we had better kill him. The task of black theology is to kill gods who do not belong to the black community. . . . Black Theology will accept only the love of God which participates in the destruction of the white enemy."
This is the theological backdrop for Barrack Obama' s political activism. This is the church where the bombastic and racist Rev. Jeremiah Wright had served as pastor for the span of that time. Obama has described Wright as his "moral compass," "sounding board," "confidant," and "mentor." Wright married the Obamas and baptized their children. Only after 20 years, strong political pressure, and Wright disavowing Obama, did Obama finally disavow Wright. But Obama never thought to disavow Wright after any of the numerous racist and anti-Israel remarks made by Wright both at and away from the pulpit over the course of 20 years! Obama was also reluctant to reject Louis Farrakhan's endorsement until there was enough media scrutiny on the part of Tim Russert to make that endorsement another liability. Obama has a proven track record in doing what is politically wise, not morally wise.
Indeed, The Obamas not only had a personal relationship with Wright, but also a professional and financial one; The Obamas donated over $20,000 toward subsidizing Wright's activities, and until a few months ago, Wright sat on Obama's "African American Religious Leadership Committee." Obama misused the Trinity Church's tax-exempt status by giving a campaign speech which included campaign promises in a lecture he gave to the congregation in June of 2007. Obama borrowed the title of his book – "The Audacity of Hope" – from one of Reverend Wright's sermons.
The following words contained in Wright's sermons are well known, but what's not known is how they represent just the tip of the racist iceberg that is the Trinity United Church of Chicago:
"Barack knows what it means living in a country and a culture that is controlled by rich, white people; Hillary would never know that, Hillary ain't never been called a nigger".
"God damn America!"
Wright's explanation of the horrors of 9-11 is "America's chickens coming home to roost." Wright typically refers to America as the "U.S. of KKK A."
"We have supported state terrorism against the Palestinians and black South Africans," he said, "and now we are indignant because the stuff we have done overseas is now brought right back to our own front yards."
When many of these comments finally surfaced in the media, Obama originally responded by saying, "I can no more disown him than I can disown the black community," implying that the entire black community is racist and ignorant, and we should all come to expect and accept that fact!
Rev. Wright is an anti-Israel activist who has given sermons at Trinity United calling for the US to cease and desist from all aid to Israel. Wright publicly accused Israel of working with South Africa to build an "ethnic bomb" to kill Negroes and Arabs. Rev. Wright also allowed his church bulletin to publish an editorial by a Hamas terrorist named Marzook entitled, "A Fresh View of the Palestinian Struggle." Wright is also good friends with fierce and notorious anti-Semite, Louis Farrrakhan, leader of the Nation of Islam movement. This same Farrakhan, who called Jews "bloodsuckers," was the recipient of an award from the Trinity United Church. The church's magazine also honored Louis Farrakhan in its front cover. Barrack Obama has yet to publicly condemn the granting of this award. In fact, all the evidence suggests that Obama, himself, has had a close relationship with Farrakhan. Obama even chose to march with Farrakhan in the Million Man March of 1995 despite the Anti-Defamation League pleading with African American leaders not to attend.
And it wasn't just Wright who gave anti-Israel and anti-Semitic sermons at Trinity. Father Pfleger and Reverend James Meeks, both supporters of Louis Farrakhan, have been regular guest speakers at Trinity over the years. When Jewish members of an Illinois state board, mandated with monitoring hate speech, resigned after a fellow board member affiliated with the Nation of Islam refused to denounce Farrakhan's anti-Semitism, Pfleger retorted with the words, "good riddance." Reverend Meeks has been known to scapegoat "Hollywood Jews" for corrupting the moral climate in America.
Barrack Obama may not be racist, much like Wright and Meeks and others who frequented Trinity United; Obama may have just been using the church for his political advantage. As Stanley Kurtz writes in a June 2 National Review Online article, "So Obama's political interest in Trinity went far beyond merely gaining a respectable public Christian identity. On his own account, Obama hoped to use the untapped power of the black church to supercharge hard-left politics in Chicago. He created a personal and institutional political base that would be free to part with conventional Democratic politics."  The question voters must pose is, "does it matter?" If a candidate were a member of the KKK for 20 years just for his political advantage, would voters forgive him? So why should they forgive a member of the black version of the KKK?